Get Healthy with Alison Sweeney's Back-to-School Snack Tips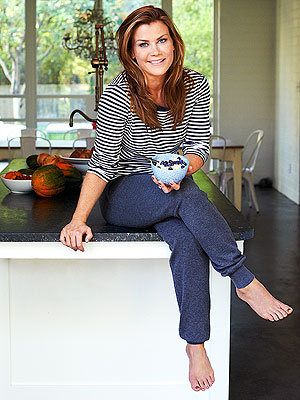 Blueberry Council/August Image
When Alison Sweeney's kids open their lunch boxes, they never find greasy bags of chips or sugary cookies.
Instead, they've got good-for-you snacks like homemade trail mix and breakfast bars that The Biggest Loser host whips up in her Hollywood Hills kitchen. After years of struggling with her weight before finally getting healthy and fit, Sweeney has made following good nutrition principles a priority, not just for herself but for her husband Dave and their children, Ben, 9, and Megan, 5.
"My kids have known from the get-go that we all need to make healthy choices," Sweeney tells PEOPLE. "They never expect to eat from the kids' menu at a restaurant." They don't expect typical kid snacks at lunchtime either.

Sweeney—who played Sami Brady on Days of Our Lives for 21 years until this past May when she left, in part, to spend more time with her family—makes the breakfast bars with dried blueberries, oats, flour and dark chocolate chips. "It's like having a protein bar but way more healthy. I make mine with a handful of different nuts, seeds, dried fruit and dark chocolate chunks instead of M&Ms," she explains.
The after-school snacks she serves are just as healthy, like the protein-packed yogurt "sundaes," made with two percent Greek yogurt, blueberries or peaches, sliced almonds, cinnamon, agave and a sprinkling of granola. Says Sweeney, "The kids think they're having dessert."
But having homemade nutritious snacks on hand takes planning ahead.
"You've got to hunt the recipes and ingredients down, then prepare them, so they're ready to go in the fridge," says Sweeney, who finds lots of ideas on Pinterest and in magazines. "It takes up maybe your Sunday afternoon making a few things for the school week."
But it's totally worthwhile, she says. "We're always on the go. Having portable snacks means the kids can eat it in the car while we're driving to their next activity like karate. I love having something that's appetizing and will survive the car ride. If you plan healthy foods, you'll be more likely to grab them."
— Nancy Mattia