Second Daughter on the Way for Jenna Wolfe and Stephanie Gosk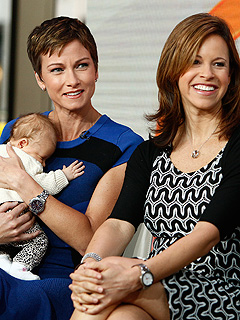 Stephen J. Cohen/WireImage
It's another "Oh, baby!" moment for NBC's Today show.
Correspondent Jenna Wolfe offered joyful news for viewers Friday when she announced that she and partner Stephanie Gosk, a foreign correspondent for the network, are expecting their second child — another girl! — in February.
Wolfe, 40, shared word of her family's expansion, noting that daughter Harper Estelle, who turned 1 on Thursday, was soon to have a sister.
"I figured, I got pregnant, I did it right the first time. I'm just going to do the exact same thing again, and we're going to hope for the best," she joked as Gosk, 42, tried to join the conversation via Skype from Tel Aviv, where she's currently on assignment.
It's been a big year for babies on the morning show — including the recent arrival of host Savannah Guthrie's daughter Vale along with Carson Daly's third child, daughter London Rose, born Wednesday.
None of this was lost on Wolfe.
"We're actually going to [have the baby] here in the Orange Room," she teased.
Girls, girls, girls. We're getting another one!! @TODAYshow @JennaWolfe

— stephanie gosk (@stephgosk) August 22, 2014
— Andrea Billups