Baby on the Way for Chocolatier Jacques Torres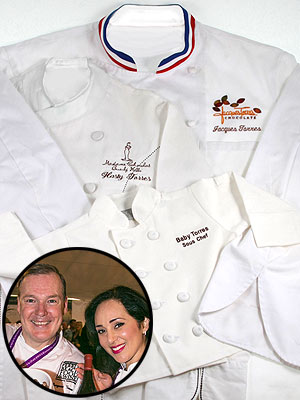 Courtesy Jacques & Hasty Torres
Jacques Torres and his wife, confectioner Hasty, have a sweet surprise: They're expecting their first child!
The pastry chef, known as "Mr. Chocolate"  for his delectable treats, is breaking the news in a typically food-focused way.
"We've been testing recipes for a while, but perfection takes time. And with perseverance comes reward, our little Sous Chef in the making will make its debut [in] 2015," the couple tells PEOPLE.
The soon-to-be dad even designed a mini cook's coat for their bundle of joy.
Torres has been on a roll this year, opening four new shops in New York City and a huge chocolate factory at Brooklyn Army Terminal in Sunset Park.
— Michele Corriston