We Tried It: CeraVe Baby Skin Care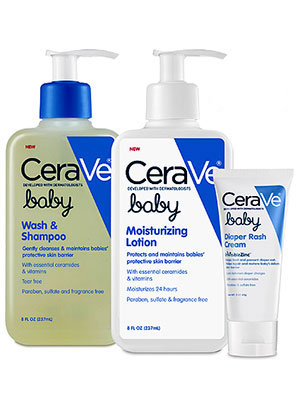 CeraVe
We Tried It: CeraVe Baby Skin Care
Who tried it: Amy Jamieson, PEOPLE.com writer
Why she did it: To banish dry skin from the entire family
Sometimes baby lotion is the only thing a busy — and scaly! — mom can get her dry hands on. And baby sunscreen, we all know it works just like the kind for grown-ups when you need coverage from the sun.
But sometimes it's nice to have skin products made just for you.
So we were excited when we heard that CeraVe, makers of gentle and affordable skin products since 2005, launched a new line just for babies and more products for adults — because our entire family's skincare needs can be fulfilled at the same place: the drugstore! (If parents received a dollar every time they went there, we'd all be millionaires).

Their new CeraVe Baby Moisturizing Lotion ($9.99) is great for baby's oh-so-delicate skin — it's formulated to help protect and maintain your little one's skin barrier for up to 24 hours. Their new CeraVe Baby Wash & Shampoo ($9.99) has a super-gentle lather — tear and fragrance free! — that doesn't dry out skin or what little hair is on their heads. According to the company, "essential ceramides" work to lock in moisture, and I'm super impressed with their work ethic.
I was especially taken by the CeraVe's new Diaper Rash Cream ($9.99) which is like no other rash cream I've tried on my daughters. It's a smooth, non-pasty cream made with "invisible zinc," which does a great job soothing and preventing diaper rash without leaving you with sticky, smelly white stuff on your hands.
I was so impressed with the consistency of their creams, I used the moisturizing lotion on my own dry hands and legs. But there's really no need dip into your kid's skincare arsenal when CeraVe makes great products for moms, too. (I didn't try it, but their SA Renewing Lotion contains salicylic acid to loosen and exfoliate dead skin cells — and that's next on my list).
Their new Eye Repair Cream did not make my wrinkles disappear, of course, but the marine and botanical extracts inside it seemed to soften them as promised. And, with a $13.99 price tag for a .5 ounce tube, it's definitely a bargain buy, since most drugstore brands start at $20. (Most of CeraVe's products are around the $13 mark).
Not to sound too much like a skincare love song, but, the company's AM Facial Moisturizing Lotion ($13.99) is everything I've ever wanted in a face moisturizer and more. It's gentle, non-greasy and has an SPF of 30, which can be hard for a fair girl like me to find since many drugstore brands seem to hover around SPF 15 mark.
There's something so soothing about these products — how they feel on your skin and the ease with which you can get them. If you go to Walmart for a baby pool and leave with that and a new set of face products for less than $40, that's sure to put a smile on everyone's face.
Click here to see where CeraVe products are sold.