Behati Prinsloo: Adam Levine and I Definitely Plan to Have Kids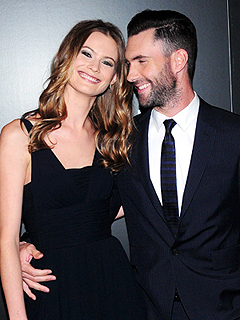 John P Iblis/JPI
Behati Prinsloo doesn't like to look too far ahead, but one thing she is planning for is children with husband Adam Levine.
The Victoria's Secret model, 25, who wed the Maroon 5 singer, 35, in Mexico earlier this month, told Net-a-Porter that she has a "definite" plan to have children. But apart from that, she likes to keep her future vague.
"I have no expectations," she said. "Not in a bad way, but I've learned that you can't plan ahead. I live day by day and see what happens."
Prinsloo said she never even expected to break into modeling. "I was tall, skinny and awkward," she recalled. "Growing up, I'd look at magazines and think, 'These pretty girls are actually doctors, right?' I didn't even know about Kate Moss."

But Prinsloo got her chance at 16 when a photographer approached her while she was visiting Cape Town and asked her if she'd like to model. She ended up staying in South Africa, living with six other models for three months.
"It was the best time," she said. "I can't believe my parents let me do it, because my dad is strict. But later he told me, 'I let you go because it was a chance to see the world. We [couldn't] give you the opportunity to travel; you [had to] experience life outside.'"
— Tara Fowler