Kerri Walsh Jennings: The Parenting Scale Is 'Always Slightly' Tipped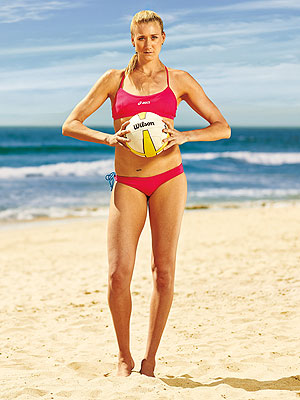 Courtesy Asics
Kerri Walsh Jennings is feeling the heat.
"Man, I'm a little overwhelmed at the moment," Walsh Jennings told PEOPLE Monday … though "overwhelmed" may be an understatement.
On top of competing in the ASICS World Series of Beach Volleyball Tournament in Long Beach (and broadcast on NBC) July 22 -27 with her new partner April Ross, the pro will be gunning for her fourth gold medal at the 2016 Olympics in Rio de Janeiro — all while raising her three young children with husband Casey Jennings.
"I think the scale is always slightly lopsided, but that's part of the balancing act: accepting things as they are, working really hard to control what I can control and have faith and let go," Walsh Jennings, 35, says. "We signed up for this, and we knew it was going to be crazy and hard. But it's the most beautiful challenge, for sure."

So how does the beach pro — and mom to sons Joseph, 5, and Sundance, 4, and daughter Scout, 15 months — handle it all?
First, "Teamwork is what makes it count," she says, adding that fellow volleyball player husband Jennings, 39, is "an amazing daddy. He keeps me focus and inspired."
Also, their brood is always nearby and along for the ride.
"We want our kids to see us working and working hard and chasing our dreams. They're very involved in what we do," Walsh Jennings says. "They're on our team, so we want them to know what we're doing — and we've grown so much as a family because of everything we do together." When they're not jet-setting or training, their favorite down-time activity is simple: "To be home. It's just the best, especially when we're all together," the working mom says with a laugh.
Coming from two very athletic parents, the kids are very energetic themselves.
"We're very active people, so if we're out of the house, we go to the beach and get the boys in the water. And my husband just took the boys to Lake Tahoe for 10 days."
So might we have some future Olympians on our hands? Walsh Jennings would love it — but there's no pressure!
"I am going to encourage them to be active and to get out there and play sports. But our little Sundance loves music — I can't wait to see what they choose for their passions," she says. "But if they were to be Olympians or college athletes or whatever they want to be, I fully support that. I can't wait to be their biggest cheerleader!"
In the meantime, Walsh Jennings is playing cheerleader for friend and former partner Misty May-Treanor, who just welcomed daughter Malia in June.
"Just thinking about it brings tears to my eyes," she says. "That's what she's wanted for so long, and I can't wait to be her auntie!"
— Jeff Nelson