Kelly Clarkson Debuts Onesie Inspired By Daughter River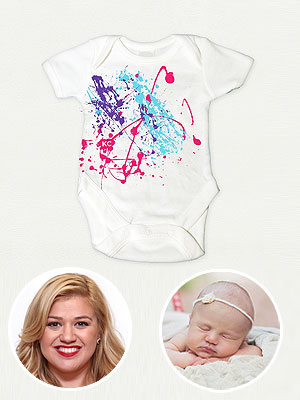 Courtesy Kelly Clarkson; Koby & Terilyn B
We didn't think it would be long before Kelly Clarkson's baby girl started inspiring her music.
But, it turns out, River Rose is also stirring up Clarkson's creative juices in other ways, too!
On Monday, the new mom announced the debut of her merchandise's warm-weather collection, complete with tees, tanks — and a super cute paint-splattered onesie.
"Summer merch is here including an adorable baby onesie (in honor of little miss River Rose)," Clarkson, 32, Tweeted.
But her design skills aren't the only thing Clarkson has been celebrating since the June 12 arrival of her daughter.
"I still can't believe I made a human," she recently Tweeted, along with the hashtags #topthat, #firstglassofwineintenmonths and #pump&dump.
Summer merch is here including an adorable baby onesie (in honor of little miss River Rose 🙂 http://t.co/Iqoxzvac9g pic.twitter.com/NSu0k4brbs

— Kelly Clarkson (@kelly_clarkson) July 15, 2014
I still can't believe I made a human. #topthat #firstglassofwineintenmonths #pump&dump 🙂

— Kelly Clarkson (@kelly_clarkson) July 1, 2014
— Anya Leon