Justin Moore Welcomes Daughter Rebecca Klein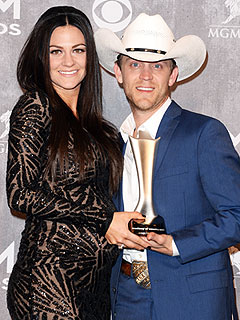 Jason Merritt/Getty
Justin Moore is a ladies' man!
The country crooner and his wife Kate welcomed their third daughter on Monday, July 14, his rep confirms to PEOPLE exclusively.
"We're very excited to welcome Rebecca Klein Moore into the world. Both Mom and Klein are healthy," the couple say in a statement.
Baby girl — who's named after her paternal great-grandmother, but will go by her middle name — joins big sisters Kennedy Faye, 2½, and Ella Kole, 4. She weighed in at 6 lbs., 13 oz. and is 19¼ inches long.
"Her two older sisters helped with her first bath and are thrilled to have a little sister! We are blessed," the proud new parents tell PEOPLE.

Although the couple chose to wait for a delivery surprise, Moore was already thinking pink.
"I would want to know, but my wife wanted to wait and she wins most battles," he joked to PEOPLE earlier this month. "I've got all girls as of right now. I am sure I will have another one."
I wanna say a big thanks for the well wishes and congrats on our new baby girl, Klein. She's perfect, like her sisters and mother.

— Justin Moore (@JustinColeMoore) July 23, 2014
It was hard to leave them, and head back on the road. However, I look forward to seeing you guys at upcoming shows. #HomeSweetHome

— Justin Moore (@JustinColeMoore) July 23, 2014
— Isabel Sanhueza