Stacy Keibler Says Picking Daughter's Name Was 'Easy Peasy'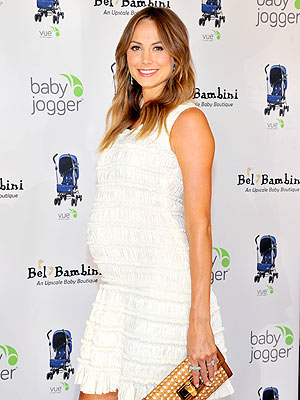 Donato Sardella/WireImage
A very pregnant Stacy Keibler is ready for mommyhood.
"We're completely ready to go. We're just sitting around waiting now," Keibler told PEOPLE of her nursery at the Baby Jogger Vue Launch held at Bel Bambini on Thursday.
The mom-to-be — who is expecting a daughter in August — adds that the finished nursery is chic and filled with sentiments.
"Actually, at my baby shower I asked everybody to bring their favorite children's book," Keibler, 34, says. "It's great because the nursery is filled with all of my friends and family's favorite children's books. So she's covered."
And although Keibler and her husband, tech entrepreneur Jared Pobre, are keeping the name of their daughter private — even from friends and family — she admits the name-picking process was simple for the couple.
"We just talked about one name and that was it — easy peasy," she explains. "Everything with us has been easy and effortless, including the name."
Keibler, who admits she hasn't had a single craving, says her pregnancy has also been easy thanks to a healthy lifestyle.
"I'm so grateful and so blessed, but I truly believe that it is a testament to having a healthy lifestyle," she explains. "I'm very mindful of everything that I put into my body and that I put on my skin. I stay active every single day and I've done that since the beginning [so] I just feel like energetically it's been really easy."
— Mariah Haas