Renee Oteri Expecting Second Child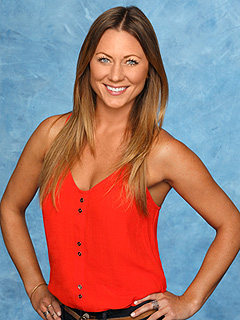 Craig Sjodin/ABC
And baby makes four!
Less than four months after she reunited with her longtime love, Renee Oteri and her new husband Bracy Maynard are expecting their first child together, she tells PEOPLE exclusively.
The real estate agent, who competed for Juan Pablo Galavis's heart on The Bachelor, is just over three months along and due Jan. 19, 2015.
"We're so excited!" Oteri tells PEOPLE. "Bracy is already paranoid — always checking in and making sure I'm okay. He's in dad mode."
And the pregnancy has been smooth sailing so far, adds Oteri, who has not had any morning sickness.

"I'm feeling good," she says. "We just had an appointment and this baby will not sit still! I keep calling her a she but we don't know the sex yet. I can't wait to find out."
Baby's big brother, Oteri's son Ben, 9, is looking forward to the new addition too, though, "he's hoping for a boy!"
For her part, Oteri is just thrilled to expand her family. And this is just the beginning. "We want more kids," she says. "We're going to try for another after this one!"
— Aili Nahas