Kim Kardashian: Nephew Mason Wasn't Happy About Kidchella
While Instagram photos of North West's first birthday blowout— aka "Kidchella" — show everyone having a good time, one Keeping Up with the Kardashians star apparently wasn't too pleased with the festivities.
"When I said, 'North's having a birthday party at your house,' Mason said, 'No! I'm having a birthday party at my house! She can never have a party!" Kim Kardashian, 33, told PEOPLE of nephew Mason Disick, 4½ , Monday at Battello in Jersey City, New Jersey, where she and sisters Khloé and Kourtney teamed up with Babies "R" Us to host an Operation Shower event for expectant military moms.
Kourtney hosted the birthday bash at her Calabasas, California, home — and Mason wasn't too keen on his cousin's Coachella-inspired celebration.
"Before Kim even said we were having it at his house, he said, 'I'm going to put Legos everywhere! I'm going to scare everybody!'" Mason's mom Kourtney, 35, said.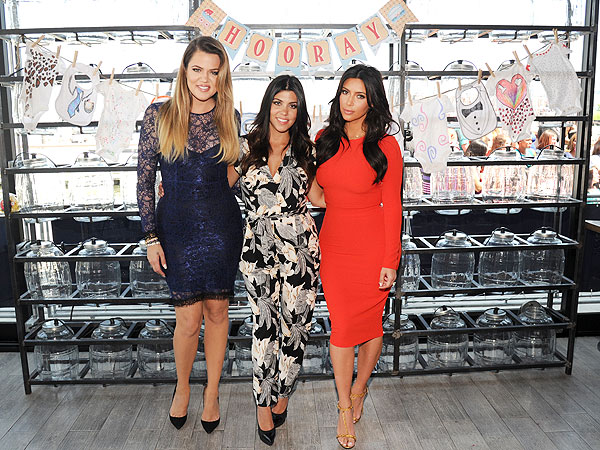 Kevin Mazur/Getty

So is this the start of a cousin rivalry, or is Mason still just learning how to share?
"He's very moody. He's very Kourtney-like," Khloé, 30, said. "If he wants to do something he will. If he doesn't, you can't get him to do anything."
Kourtney said that Mason's temperament comes from dad Scott Disick: "He might be a little more Scott's personality than mine. He's just the life of the party."
Her daughter Penelope, 2, however, is "exactly like Kourtney," Khloé said.
"Penelope likes to observe and figure people out before warming up to them," Kourtney added. "She's so cute."
And with their Kardashian Kids boys collection coming out soon, can we expect Mason to follow in aunt Kendall Jenner's runway-walking footsteps?
"I don't know. He has such an attitude," Kourtney said. "If he thinks there's some Legos on the other end of the runway, then he'll do it."
— Jeff Nelson