These Eco-Friendly Lunch Boxes Make Family Meal Planning Easy
As moms, we often have too much on our plates. So anything that can help us be more organized, while taking less the time, is a win win for the whole family.
That's why we were excited to try PlanetBox, an eco-friendly lunch box that claims to make packing on-the-go meals a cinch.
Perfect for camp, the beach or any outdoor adventure, the stainless steel container (which was thoughtfully designed by real parents) comes in three different sizes. And not only does it encourage portion control, but it's great for those people (young or old!) who can't stand the thought of their food touching.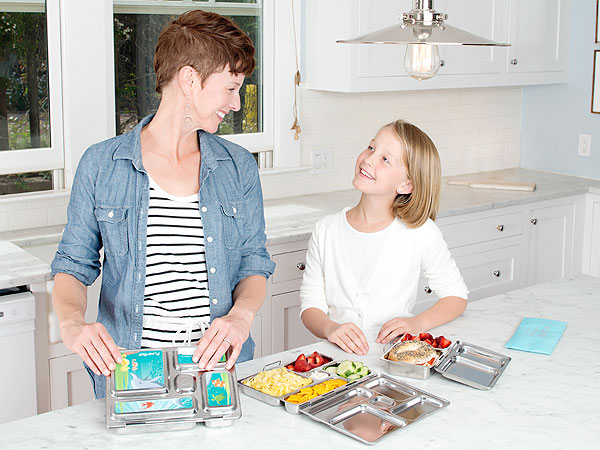 Courtesy PlanetBox

The Launch ($50 – $75) offers spacious food compartments for big appetites — perfect for Dad after a long day at the park with the kids. And always-hungry school age kids and portion-conscious moms will appreciate the Rover ($40 – $60) which features five compartments and two small dipping cups. The third and smallest box, the Shuttle ($35 – $40), is ideal for light snacks or small lunches for preschoolers with little hands.
Pack them with healthy foods, and then tuck them away in their insulated carrier bags to keep meals fresh until they're ready to be eaten. No, really! The leak-free containers seal so tightly that it will still be fresh as a daisy the next day — we tried it!
And because the easy-to-clean compartments are the perfect size, it's actually fun figuring out how to fill them. The company recently launched a Plan-It-Box meal planner if you're drawing a blank after the umpteenth PB & J.
There may be no such thing as a free lunch, but these are as close to a stress-free, eco-conscious and economical one as you can get.
—Amy Jamieson