Donald and Vanessa Trump Introduce Daughter Chloe Sophia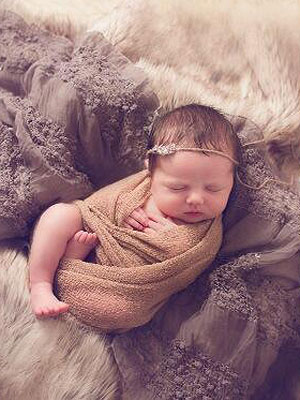 Courtesy Vanessa Trump
Sweet baby girl!
Donald Trump Jr., and wife Vanessa took to Twitter to introduce their fifth child on Wednesday, posting a photo of their sleeping newborn wrapped in cheese cloth.
"Here is the 1st photo of our daughter Chloe Sophia. Mommy & Daddy's little girl!" Vanessa Tweeted.
Two days after her June 16 birth, the couple's newest addition left the hospital and headed home to a full house, joining big sister Kai Madison, 7, and brothers Donald John III, 5, Tristan Milos, 2½, and Spencer Frederick, 20 months.
"It's a girl!!!! Vanessa and I are very excited to be bringing home our little bundle of joy today," Trump Tweeted at the time.
Here is the first photo of our daughter Chloe Sophia ! Mommy and daddy's @DonaldJTrumpJr little girl. pic.twitter.com/onaVpsxi2k

— Vanessa Trump (@MrsVanessaTrump) July 3, 2014
— Anya Leon