DeAnna Pappas Stagliano: 'No One Can Prepare You' for Parenthood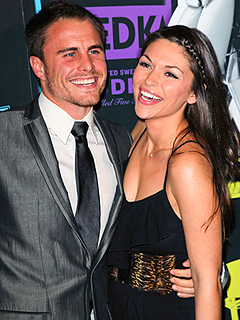 David Livingston/Getty
As a former Bachelorette, DeAnna Pappas Stagliano knows a thing or two about romance.
But she and husband Stephen Stagliano have found an even greater love in their nearly 5-month-old baby girl.
The reality star gave birth to daughter Addison Marie in February, and she's brought her parents even closer ever since.
"I didn't know that you could love like this. Obviously I love DeAnna to pieces and we have a wonderful marriage, but the love that a parent has, it's just different," Stagliano, 30, told PEOPLE.
"You can't really describe it," Pappas Stagliano, 32, added. "Words don't credit what you feel. No one could prepare you for this. Your heart is just overflowing."
The couple took a break from parenting Saturday to attend the colon cancer fundraiser Chris4Life Blue Royale Casino Night at Ohm Nightclub in Los Angeles. But Stagliano couldn't stop raving about how Addison steals his heart — even when he's sleepy.
"I am not a morning person, and she wakes up at 6:30 [a.m.], and when I get out of bed, I'm like, ugh, but as soon as I see her and she lights up and smiles at me, it's the greatest thing ever," he said.
As for mom? Pappas Stagliano is loving every minute of co-parenting with her husband, who she married in 2011 after meeting through his twin brother Michael Stagliano, another past Bachelor contestant.
"Nothing can really prepare you for what it's like to have a child and how your life will change, but I will say we're really good at it," she said. "We're a really good team."
Added Stagliano: "People talk about being a mom and being a dad and being parents, but at least in my experience, no one really prepared me for … [falling] more in love with DeAnna and that teammate aspect. It's true. Your marriage gets strengthened a lot because you literally become a team."
— Michele Corriston with reporting by Gabrielle Olya