Jennie Garth and Tori Spelling's Friendship Has Come 'Full Circle'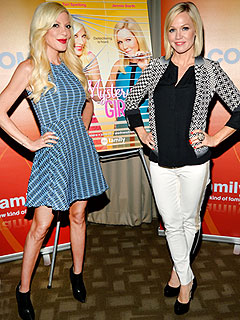 Ben Gabbe/Getty
The friendship between Beverly Hills, 90210 stars Tori Spelling and Jennie Garth has continued on past the ending of the show 14 years ago.
Now their friendship is passing onto the next generation as their kids begin to grow close.
"Our kids are becoming friends which is really cool," Spelling, 41, said at The MOMS Denise Albert and Melissa Gerstein's screening of their new show, Mystery Girls, in New York on Tuesday.
"My kids had a sleepover last week at [Jennie's] house. It was like full circle."
Spelling is mom to Liam, 7, Stella, 6, Hattie, 2½, and Finn, 22 months, while Garth is mom to daughters Luca, 17 on Sunday, Lola, 11, and Fiona, 7½, which means there's always plenty to talk about.
"We share stories every day," said Garth, 42. "I love and respect her as a mother and she's doing a great job."

Added Spelling, "And I love and respect her."
Although many parents want to be the "cool mom," Garth has chosen a different route when it comes to raising her girls.
"I try to be not cool," said Garth. "I'm the mom with the tattoos. My kids admire the fact that I am kind of edgy personally and they actually try to keep me in line."
For Spelling, her children are still too young to realize how cool or uncool their mom really is. "They don't know that I'm not cool anymore," she said. "I know I probably only have another year or two. It's going to happen any day."
Whether or not they realize Spelling's true level of cool, her kids are becoming more and more like her every day.
"Liam's definitely stubborn like me," she admitted. "He's creative and passionate like me [and] holds in his feelings like me. Stella does the same. We're best friends."
She adds, "Hattis [uses] her hands like me because I talk with my hands. Finn and I have a really special bond and he looks a lot like me when I was a baby."
Garth and Spelling's new show Mystery Girls premieres Wednesday at 8:30 p.m. on ABC Family.
–– Zakiya Jamal