Susan Sarandon: My Granddaughter's Name Will Be 'Unusual'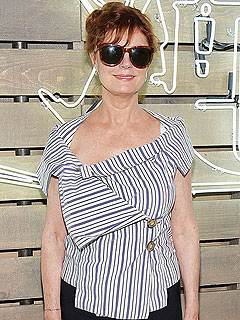 Mike Coppola/Getty
Susan Sarandon is gearing up for one busy summer.
The Oscar winner just began promoting her new movie Tammy — where she plays Melissa McCarthy's grandmother in the buddy comedy due in theaters on July 2 — and off screen she is about to experience the real thing for the first time.
Her daughter, actress Eva Amurri Martino, 29, is expecting a baby girl with husband Kyle Martino, 33, later this summer.
"I'm very excited to be a grandmother. It's going to happen soon. She's due in August," Sarandon, 67, told PEOPLE at the Coach Summer Party on the Highline in New York on Tuesday. "I'm making my way to L.A. and cleared August and most of September to be with her."
She adds, "I'm not sure I'll be in the delivery room, but I'll be available for whatever she needs."
Now that the parents-to-be are in the home stretch, they are all prepared for the baby's arrival and even picked out a name for their little girl. Sarandon says the name is a secret for now, but offers a hint.
"It's not a vegetable, a city or a place," she says. "It's a real name, but it's unusual. I really like it."
One moniker Sarandon will share is her new nickname. She will be called Honey and not Grandma. The Ping Pong Summer star got inspiration from her hairstylist from Alabama, who called his grandma Honey. "It seems different and sounds warm and sweet. I don't know if the baby will know how to say it right away, but that's what we are going for," she shares.
As for diaper duty, will she offer to help?
"Yeah, definitely!" she says with a smile. "I changed all of my kids diapers. It's different when it's your granddaughter though. I'm going to follow all my daughter's rules, but behind her back I'm going to break them and spoil the baby because I think that's what grandmothers are for."
— Paul Chi