Kourtney Kardashian: Nothing Is More Important Than My Kids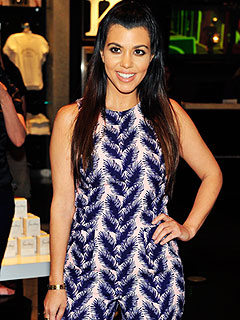 David Becker/Getty
Despite an expanding fashion empire and continued success in the spotlight, Kourtney Kardashian's main focus is her growing family with longtime love Scott Disick.
"Boundaries are crucial for a working mom," Kardashian, 35, tells Cricket's Circle. "My children are my priority and always come first, which allows everything else to fall into place."
It's that kind of thinking that helps the reality star create a balance that works for her busy life.
During the week, the mom-to-be — who will welcome her third child in December — pulls out all the stops when it comes to her Dash boutiques, Kardashian Kollection and Kardashian Beauty.
But come Friday, her attention shifts to 4½-year-old Mason Dash and Penelope Scotland, 2 next month.
"Weekends are off limits for working unless absolutely necessary because that's my family time," she explains. "I live for our precious naps when we all snooze together. We also do a lot of picnics and Disney movie nights. I just love being home with no one else around except my family."
Kardashian's love for her family has also led her to strive to incorporate healthy habits — not necessarily a diet — into her active lifestyle.
"My idea of what is 'fit' has evolved. I am not into being super skinny anymore," she says. "We eat lots of fresh, organic foods. We do eat out a lot, which makes things a little trickier. Moderation is key for me."
Fortunately, the line between her personal and professional lives is more blurred than the average mom. Kardashian works with Kim and Khloé on their labels, and is currently filming Kourtney & Khloé Take the Hamptons in New York.
But it's the launch of Kardashian Kids, her family's new clothing collection, that has the eldest sister pulling rank.
"I took the reigns on the first collection because we started designing it ages ago, before Kim was even pregnant," she explains. "I thought about my favorite pieces, things that I would change or items that didn't exist that I was always looking for." And that includes mini biker jackets.
"I got [one] for Penelope as a gift and it's real leather and amazing, but it's just not the most practical piece so we made a version for the latest collection that's really soft, thin and lightweight so it's great for layering."
— Anya Leon