Jenna von Oy's Blog: I'm Back – with Secrets to Spill!
Look who's back — it's celebrity blogger Jenna von Oy!
Best known for her roles as Six on Blossom and Stevie on The Parkers, von Oy is also a musician who has released two albums and is currently working on two books, including a fictional novel for young adults.
von Oy, 37, wed Brad Bratcher on Oct. 10, 2010, and resides in Nashville with her husband and five dogs.
They welcomed their first child, daughter Gray Audrey, in May 2012. She is now 2 years old.
You can find her on Facebook and Twitter @JennavonOy, as well as posting on her weekly blog, The Cradle Chronicles.
In her latest blog, von Oy reveals where she's been the past few months — and shares some pretty big (and exciting!) news.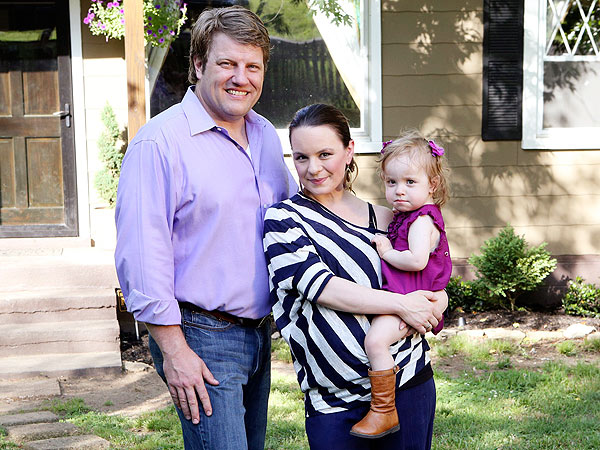 Our Celebrity Wife Swap family photo – Mark Levine/ABC
I'm baaaaaack!!! (She says in her creepiest, most haunting Poltergeist voice.)
I know I've been missing in action for the last several months, and I pray you'll all forgive my absence. I can only hope said absence made your hearts grow fonder, despite my use of that unoriginal and timeworn cliché.
Yes, it's true. I took 8 (EIGHT!!!) weeks off from blog writing, both here on PEOPLE.com and on my personal site, The Cradle Chronicles. I swore I would never take a vacation from them, but exceptional circumstances called for exceptional measures.
No, I wasn't trekking through the Arctic, or meditating with Tibetan monks, or traversing the wild jungles of the Amazon. It was nothing quite that adventurous. Or was it?
I promised myself I would spend my "off" weeks stocking up on intriguing new posts, collecting hilarious parenting stories to relay, and trying out new recipes to tantalize your taste buds on my weekly Cradle Chronicles blog.
But you know what I did instead? I took extended naps with my sweet baby girl. I read her stories, played dollhouse and dress-up, and took her outside to blow giant bubbles. We watched summer roll out its green carpet, planted our vegetable garden, read books, sang silly songs, admired the fireflies illuminating our yard, and shared homemade blueberry muffins.
We baked pretend cookies, viewed so many Sesame Street repeats that I now know them all by heart, and drew pictures of dogs that vaguely resembled cats. Which, thankfully, no one was judging. We laughed, and snuggled, and acted silly together. We took a small family road trip to North Carolina, and celebrated two birthdays (Gray's and mine), as well as Mother's Day.
Grand adventures, indeed!
And all the while, I blatantly ignored any and all writing. But can you blame me? I'm incredibly proud of my lazy and idle blog intermission. Sometimes I get so caught up in writing about the joys of parenting that I don't leave myself quite as much time to live the joys of parenting.
So here I am, eight weeks later, with "nothing" to show for my hiatus … Nothing, that is, except the most wonderful moments spent with a husband and little girl who undoubtedly deserve them more than a blog does! And that means nothing short of everything to me.
Lo' and behold, a break was just what the doctor ordered. More specifically, it was just what the baby ordered.
No, not the baby that you're already familiar with (who's now 2 going on 20, I swear!) I'm referring to the baby in my belly that will be making her big debut at the beginning of November.
Yes, you read me right. WE ARE HAVING ANOTHER BABY!!!
We will be welcoming another little girl into our family in a few months (I'm 20 weeks along), and we couldn't be more elated and enchanted. Our hearts are overflowing with love, and Gray is simply over the moon about becoming a big sister! She kisses my belly daily, and tells me she's "watching out for the baby." I have no doubt this is true.
In large part, my blogging downtime had to do with my pregnancy; I was beyond exhausted. Not to mention, it's tough to write a blog when you're making a mad dash for the toilet every 10 minutes!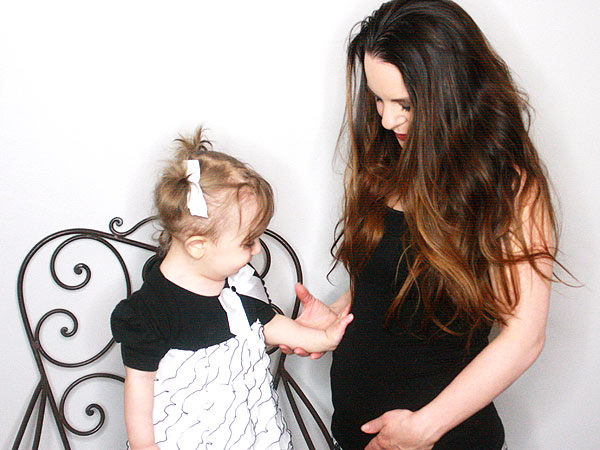 Gray's getting a little sister! – Courtesy Jenna von Oy
It also happens that I promised the good folks at Celebrity Wife Swap we could reveal our baby news on their program. Now, it may strike you as a bit out of character that I agreed to the show in the first place, and normally I wouldn't disagree. But you know what? I couldn't be more thrilled that I participated. I'm eating my own "I'd never be caught dead on a reality show" words these days.
The fact is it wound up being a once in a lifetime adventure, and a bizarre/refreshing/thought-provoking social experiment, to say the least. After turning down all reality television offers prior to this one, folks have been pondering what motivated me to change my outlook.
Essentially, curiosity got the better of me. The challenge of being in someone else's home, living in their (as it happens, very fancy) shoes for a week, and walking away with a dose of self-reflection and inspiration, was just too intriguing to pass up.
It was also a brilliant reminder of just how much my husband and I love one another and how perfectly we fit. There's always more to learn in this lifetime, and I don't expect my parenting or marriage education to end any time soon. I embrace being a work in progress.
Needless to say, the Celebrity Wife Swap journey was definitely the learning experience I'd hoped for! For those of you who aren't tempted by the theatrical melodrama that is reality television, or who don't typically get excited about the lives of kooky celebrities, you may not have been planning to tune into my upcoming appearance.
But if you change your mind and feel like joining the adventure, please watch as I swap lives with Jill Zarin of The Real Housewives of New York on July 15 at 10 p.m. ET/9 p.m CT on ABC!!
This down-home Nashville girl wound up in the posh social scene of The Hamptons, for Pete's sake, so you don't want to miss it! Please also join me that night as I LIVE TWEET during the episode. I imagine my sarcasm will be running amuck.
But back to the baby news.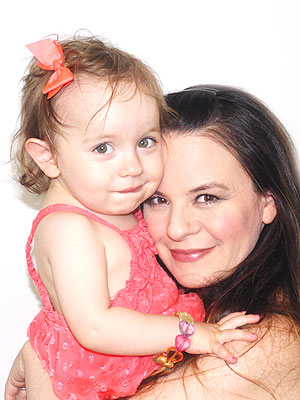 Cuddling – Courtesy Jenna von Oy
Since Celebrity Wife Swap may or may not wind up making a deliberate reveal of my pregnancy in the final cut of the episode, they've gone ahead and given me the thumbs up on making my special announcement now.
As you know, I try to be as open and honest as possible with all of you. Consequently, I felt it was too difficult to blog my way through the first and second trimester without mentioning something as significant and life altering as having another baby! It was a tough secret to keep, even for this long, and we definitely have a lot to catch up on now.
Next month, I'm looking forward to sharing more about the little one who's on her way, to report on the latest and greatest with Gray, and to give you updates on my work endeavors.
But before I go, I should also mention that Blossom is about to be back on television for the first time in 15 years!! It will be premiering on July 7 at 10 p.m. ET/7 p.m. PT on the Hub Network.
Yes, the era of floppy flowered hats and "very special episodes" is about to be bestowed upon a whole new generation of television watchers.
Long live the "Whoa!" the flannel shirts, the fast talking, and all of my acne-ridden awkward phases. Not to mention, the dancing. Oh, the dancing!
See? As promised, I've truly returned, in all of my acerbic glory. I'm back, and bigger than ever!
(In case you were wondering, that's a self-deprecating preggo joke, not a puffed up observation about my popularity.)
If this blog wasn't long-winded or news-filled enough for you, please make sure you check my Cradle Chronicles blog every Friday, for weekly updates!
Blossom reunion w/former co-stars, courtesy of @HubTVNetwork! @missmayim @joeylawrence @MikeStoyanov #blossomreunion pic.twitter.com/8pTihLtuiK

— Jenna von Oy (@JennavonOy) June 16, 2014
Until next time,
— Jenna von Oy