DeAnna Pappas Stagliano's Blog: Finding Out I Was Finally Pregnant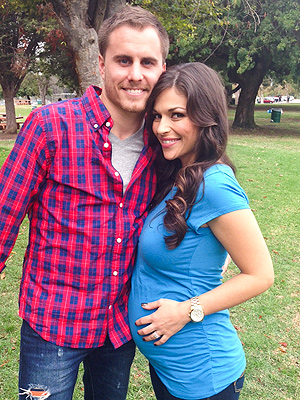 Courtesy DeAnna Pappas Stagliano
Please welcome our newest blogger, DeAnna Pappas Stagliano.
The real estate agent and Bachelor alum, 32, was one of two finalists on Brad Womack's first season before headlining The Bachelorette, where she chose Jesse Csincsak.
Although the engagement didn't work out, she met Stephen Stagliano through his twin brother Michael, who was a contestant on Jillian Harris' season.
After getting engaged in August 2010, Pappas and Stagliano tied the knot in October 2011 in Georgia.
In August 2013, the couple announced that they were expecting their first child. Daughter Addison Marie arrived on Feb. 6 of this year.
Pappas Stagliano can be found @DeAnnaPappas on Twitter and @DeAnnaStag on Instagram.

I am so excited to be writing this blog for PEOPLE alongside many other women who share in the common knowledge of motherhood — my best job yet!
You probably got to know me on The Bachelor and The Bachelorette, but I have since settled into a life off camera.
I met my husband, Stephen, through his twin brother, Michael, who was also on another season of The Bachelorette. Stephen and I were married in October 2011 and we welcomed our first child in February.
Stephen and I tried to get pregnant for almost a year. He and I would describe this time very differently — I was stressed, sad and losing faith. Stephen would say, "Practice makes perfect!"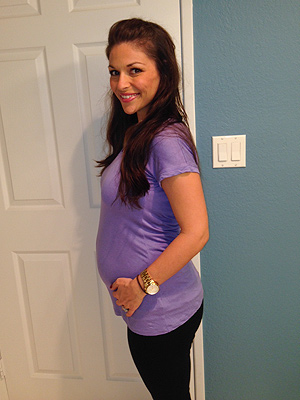 Courtesy DeAnna Pappas Stagliano
I remember it just like it was yesterday … I was late for my period. Eleven days late to be exact. On top of this, my boobs were so sore! This didn't alarm me either, because sore breasts are a sign of a period coming.
I was also convinced I wasn't pregnant because I had taken multiple pregnancy tests all of which said I WAS NOT PREGNANT.
It was a Saturday morning. Stephen and I woke up and were going to head out on our weekend ritual of walking the dog to Starbucks and grabbing a bagel at Noah's. Stephen convinced me to try one more pregnancy test just to be sure.
I remember instantly seeing two lines. I started screaming. "Two lines, Stephen, there are two lines! Set the timer!!" I was like a crazy person hiding behind the wall in our bedroom as if the pregnancy test was going to jump out and scare me!
Two minutes went by and it was confirmed: I was pregnant. We were over the moon! We wanted to be sure so instead of grabbing coffee and bagels that morning, we grabbed seven more pregnancy tests from CVS!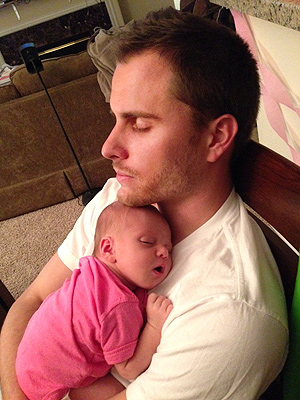 Courtesy DeAnna Pappas Stagliano
My pregnancy, for the most part, was great! Set aside the first few weeks of nausea and erratic strawberry Pop-Tart cravings, I think I handled it very well. I didn't have sporadic mood swings (Stephen may beg to differ), and I only gained a total of 26 pounds. I felt rather beautiful up until the very last day.
With that being said, I definitely experienced some of the not-so-great perks of pregnancy as well. No one likes to prepare you for the acne (or back-ne), the constipation, the doubling of your breasts, the moment when you cannot see your vagina anymore let alone shave your legs, or the endless amount of urine your kidneys produce!
Contractions started for me at about 12:30 a.m. on Thursday, Feb. 6. One woke me just about an hour after I had gone to sleep — I was convinced it was the same nightmare I had been having for weeks. I woke Stephen and in his deep slumber he said, "Are you sure you don't just need to poop?!" I still laugh about that today.
I stayed home until about 7:30 a.m. when I just couldn't take the pain anymore. So, off we went to the hospital … at 8 a.m. … in rush hour traffic. The seven miles to the hospital were excruciating. I was bowled over in pain in the front seat of our car with contractions coming every four minutes. I was terrified that I was going to give birth on the 101 North!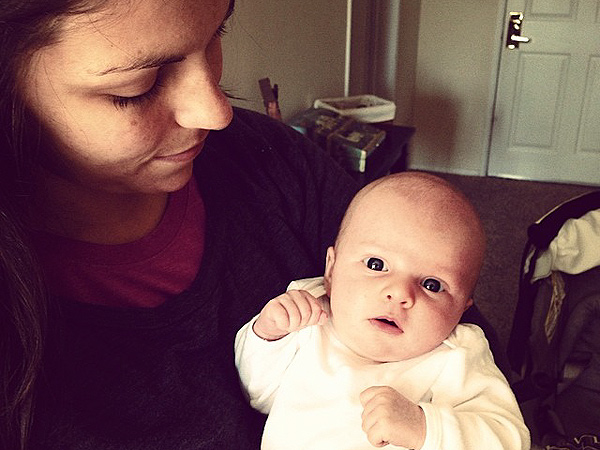 Courtesy DeAnna Pappas Stagliano
Alas, we made it to the hospital where I was given an epidural and after 15 minutes of pushing, I held Addison Marie Stagliano in my arms. She was beautiful, so tiny, and healthy. Perfect. She was absolutely perfect.
Stephen and I loved the name Addison from the first time we heard it. We knew we wanted to name our first daughter Addison early on. Her middle name, Marie, was my grandmother's, my mother's and my middle name. I wanted to pass it on to her because I wanted her to have a piece of my mother to carry with her forever.
Addison has been such an incredible blessing in our lives. Not a single person in the world could have prepared me for the love that I bear for this little angel.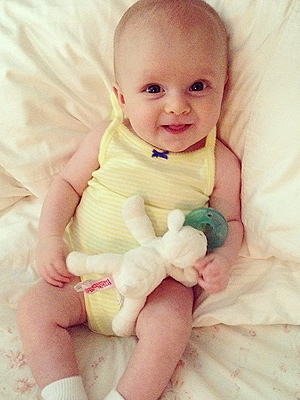 Courtesy DeAnna Pappas Stagliano
Motherhood has been amazing so far. I have enjoyed the sleepless nights, the middle of the night feedings, the first time she smiled at me, our mornings of tummy time, the absurd amounts of pictures we post on Twitter and Instagram, her first bath, her coos, the moments when she freezes at the sound of her mommy and daddy's voices, and the amount that my love grows by the second for our daughter.
As we say in Bachelor world, she is AMAZING. When used in description of my baby girl, that word will never get old!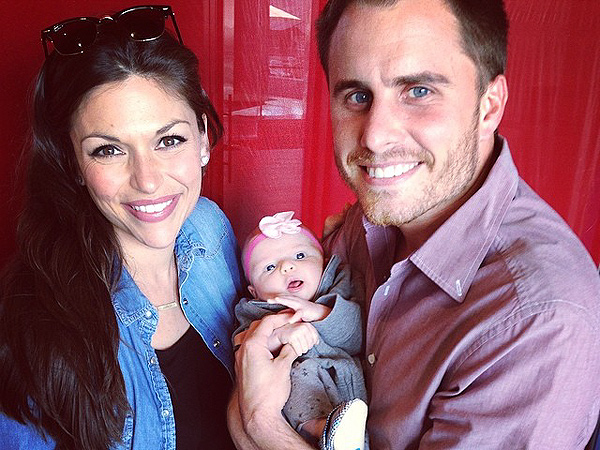 Courtesy DeAnna Pappas Stagliano
What is your birth story? Please share!
— DeAnna Pappas Stagliano
More from DeAnna on PEOPLE.com: