B.J. Novak's New Picture-Free Book Will Make Your Kids Laugh – And Love Words!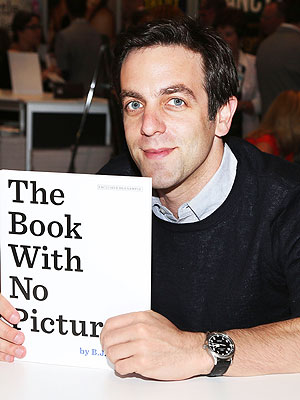 Courtesy B.J. Novak
B.J. Novak knows how to make grownups laugh, but now he wants to help parents make their kids giggle too.
"I would always read books to my friends' kids when I would visit them and it struck me how much power the kid has over the reader. They basically just hand you a script and you have to read every word. I thought there must be something funny in that," Novak explains to PEOPLE.
"So I thought it would be funny if kids saw [a] book as playing a prank on the reader and has them saying all these ridiculous and funny things."
The result of the actor's idea is his new children's tome, The Book With No Pictures, which is already a big hit with his young fans.

"I've done live readings of my work for adults but I've never had a reading as boisterous as this," the former The Office star says of reading his book to 200 kindergarten, first and second graders at a school in Queens on Thursday. "It was really, really fun."
But the love doesn't stop there. Even younger kids are appreciating his book though it has no pictures.
"My favorite response was a 2½-year-old kid I read it to. I thought he would be too young for it but I wanted to show his mom what the reaction would be," says Novak, who released the book's cover Friday.
"When I was done, I read him a very popular picture book that I thought would be more for him and as soon as we finished the picture book he pointed to The Book With No Pictures and said, 'Again!'"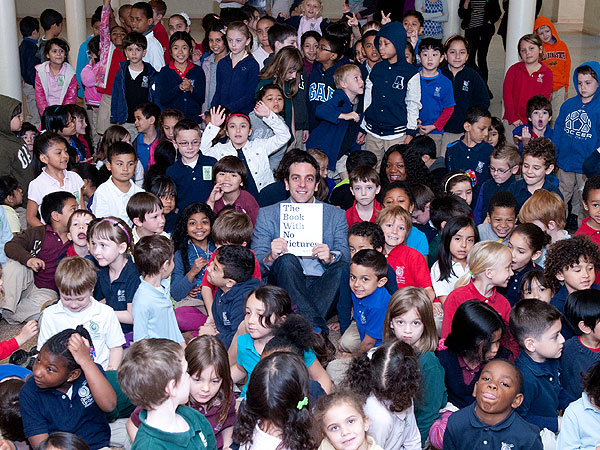 Courtesy B.J. Novak
Novak says that his "simple" book is also full of important "hidden messages" he hopes young listeners will take away.
"I really wanted to get kids thinking that the written word is their ally not their enemy and it creates a great experience between the parent and the kid," he says.
"I think a lot of parents think they are not funny and are scared to read a funny book, but I've tested it with so many parents and I think this is fool-proof. No matter how you read it, you're funny."
Besides his love of words, there's another reason Novak was inspired to write The Book With No Pictures, which is scheduled to be released this fall.
"I'm a perfectionist," he says. "And I can't draw so this was a chance for me to really do everything myself."
—Patrick Gomez