Holly Williams: What I've Learned from Gwyneth Paltrow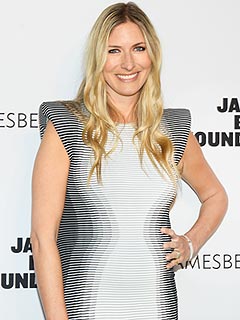 Lola Haze/BFAnyc/Sipa
When Holly Williams found out she was pregnant with her first child, she turned to some of her working mom friends — like Gwyneth Paltrow — for advice and inspiration.
"I think the biggest thing everyone has said to me is to not let stress affect your body and that I need to take time to prepare the healthiest food I can while I'm traveling," the musician, who has been touring in support of her album The Highway most of this year, tells PEOPLE. "Gwyneth's cookbook It's All Good has been a big help."
Maintaining a healthy pregnancy diet while on the road isn't easy.
"The other night was horrible. I was on the road in the middle of nowhere and was starving to death, so I went to a gas station and had M&Ms, Fritos and a Coke," Williams, 33, says. "The first thing I did when I got home is make Gwyneth's chicken and kale soup. It's an amazing detox for your body."

Williams — who is due Oct. 9 and knows the sex of the baby, but is keeping it private for now — says she's also taking notes on parenting from Paltrow, who is mom to Apple, 10, and Moses, 8.
"We became friends four or five years ago and did a summer beach trip together where she had these chalk boards with the kids' names and this point system," she explains.
"If they fight or call each other names or don't say please or thank you, they get a point down, and if they do something nice, they get a point up. Whether it's a video game they want, or a new toy, they have to have a certain number of points to get it. It's a genius idea that I hope to try. I'm lucky to have great girlfriends like Gwyneth and other women who are patient with their children — and I was lucky to have a patient and loving mom. That's all been great for me."
— Eileen Finan