AKID Steps Up the Kiddie Shoe Game with Cool New Collection
What happens when two sneaker aficionados start shopping for shoes for their little boy? Not much according to Matt George and Ashleigh Dempster, who encountered this dilemma after welcoming their first child.
But instead of singing the baby shoes blues, the couple did the next best thing: they launched their own line, AKID.
"We saw a real gap in the marketplace for what we were looking for," Dempster, a self-proclaimed "shoe addict," tells PEOPLE. "We found it hard to find shoes that were basic and high-end and more sort of fashion-y than kiddish."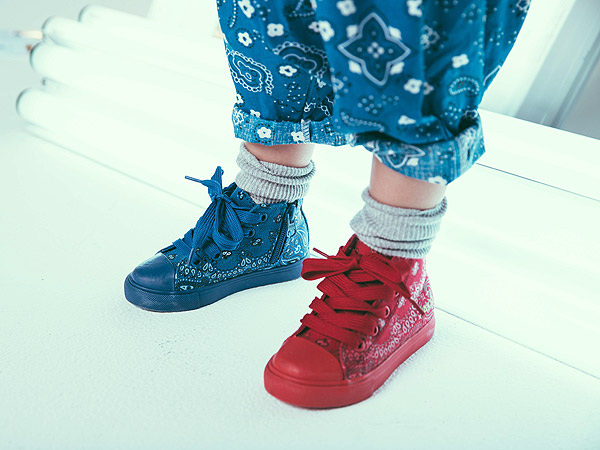 Courtesy AKID
Featuring everything from traditional work boots (with multi-colored leopard spots, of course) to bandana print hi-tops (our current faves), the collection gives new meaning to the term "Mini Me" with kicks that even adults — including us! — wouldn't mind wearing.
But for parents who may be wary of the $50 – $90 price point, consider this: they're well-crafted with luxe details (read leather lining) so you can pass them down again and again.
"Now more than ever, parents are having a lot more fun with what their children wear," says George. "They want them to wear practical clothes that are going to last and [that are] comfortable so they can run around the playground."
Despite launching only a few months ago, the collection is really catching on. Dempster and George are even hoping to see their shoes on a few celebrity kid feet. In fact, they already have a few in mind!
"Kids are rocking great style right now. There's Blue Ivy and Miranda Kerr's little boy and Gwen Stefani's kids. We really see our brand playing so many different roles — there's something for everyone," explains Dempster.
"Our styles are so basic and we're always changing the colors and the patterns, you can really incorporate them with any individual look."
— Anya Leon with reporting by Dahvi Shira