Niki Taylor: My Daughter Is the 'Boss of the Family'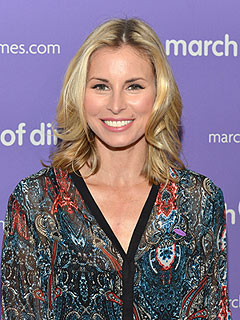 Slaven Vlasic/Getty
Niki Taylor is restless and raring to go!
After a long cold winter, the busy supermodel, March of Dimes ambassador and doting mom is excited about spending the summer months outdoors in Nashville with her energetic kids, Ciel, 5, and Rex, 2½.
"We all love spring because we can go on daily walks in the neighborhood and at local parks with our bikes, trikes, strollers, bubbles and balls," Taylor, 39, tells PEOPLE.
"Ciel is the boss of the family while Rex is all boy with a high energy level. We are happy winter is over because we love our time outside together!"
Taylor is currently supporting the March of Dime's annual spring March for Babies walks, which promote healthy babies in 700 communities across all 50 states. In November, she will host a celebrity chef fundraiser in Nashville to benefit the March of Dimes.

But she is never too busy to plan outings with her own children.
And fans will get to see some of this family fun. Taylor just launched her own lifestyle video series, which gives viewers a peek inside of her family's world, on the StyleHaul network.
The videos will include appearances by the children, their older twin brothers Hunter and Jake, 19, who are working college students, and her husband Burney Lamar, 33, a race car driver turned pilot.
Always on the go, Taylor seems to have nearly as much energy as Rex and Ciel. Their jaunts often include running as well as frequent stops at local book stores because Taylor loves reading to both children.
"We do puzzles, then I read books like Fancy Nancy, The Giving Tree and Fly Guy," Taylor tells PEOPLE of the kids's daily activity. "Since Ciel goes to kindergarten in the fall, it won't be long before she is reading a great deal herself."
Ciel and Rex also enjoy playing alphabet, numbers, colors and shapes with their mom. Both children are smart and catch on quickly. "Ciel is the artistic one," Taylor says, "and Rex is a sweet soul. They just love each other."
Lamar has to fly for work six days in a row before having three days off — only then can he spend uninterrupted time with the family.
"We all miss him while he is gone, but Burney is happy with his job, and we are together on his days off," says Taylor.
Plus, mom and the kids have their long-haired calico cat Molly to keep them occupied. The kids love and take good care of her. "Molly is practically a person, an absolute love," says Taylor of their rescued cat, now in her teens.
In addition to having Ciel and Rex develop a disciplined respect for animals, Taylor believes the most important thing parents can do to raise strong and healthy children is give them plenty of attention.
"Hold them, talk to them, read to them, support them, and just spend quality time," Taylor tells PEOPLE. "It's the best thing parents can do for their young children."
— Linda Marx