Thandie Newton Had Son Booker on the Bathroom Floor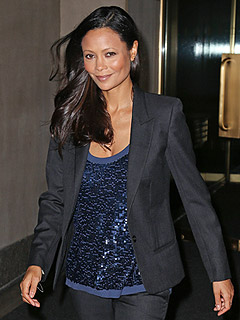 Dara Kushner/INF
Thandie Newton's son Booker Jombe is one lucky man: The 11-week-old has a trio of ladies doting on him day and night.
"I think he thinks he's got three mommies," the Rogue star joked on the TODAY show Thursday. "He's got a 13-year-old, a 9-year-old and a … 27-year-old."
Newton is actually 41, but she did get the ages of daughters Nico and Ripley right. The proud mama had all three children with a midwife at home, noting on TODAY that her boy was born "on the bathroom floor."
"I'd never been in hospital as a child or as an adult really, and I just associated hospital with being ill," she explained of her decision. "And I felt beautiful and healthy and wonderful when I was pregnant, and being at home was the place I felt most relaxed and comfortable."

The actress is a huge proponent of home births, Tweeting "Keep independent midwifery alive!" when she announced baby Booker's arrival.
"There was a time when everyone had their babies at home. It wasn't such a big deal," she said Thursday. "It's more about as a woman what do you feel most comfortable doing, and you make the choice, and I chose to be at home."
Visit NBCNews.com for breaking news, world news, and news about the economy
— Michele Corriston