We Tried It: The Urbini Hummingbird, A.K.A. The World's Lightest Stroller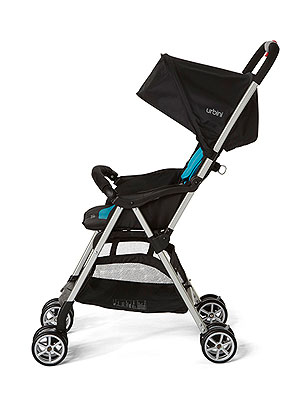 Courtesy Urbini
We tried it: Urbini Hummingbird stroller
Who tried it: Rennie Dyball, Senior Editor
Why she did it: Heralded as "the world's lightest full-featured stroller," how could we not try it out?
Pros: The Hummingbird, a kicky little stroller from the new juvenile brand Urbini, weighs in at an almost too-good-to-be-true 6.6 lbs.
You pretty much feel like a superhero being able to lift it with one hand, or even just a finger if you're so inclined. It's that light.
So it's certainly easy to maneuver in and out of the car or up and down stairs — perfect for city dwellers who live in walk-up buildings or suburbanites who haul a stroller in and out of the car on a regular basis.

It's also worth noting that the frame is made from a special aluminum that's engineered to be stronger and lighter than the traditional kind. And this aluminum is being used on a new satellite. What other strollers get to say that?
The stand-alone fold is super easy and you can do it one-handed, and the storage basket is a decent size, considering the petite dimensions of the Hummingbird. It's also nicely padded, comes in three cheerful colors, as well as basic black, and can be used for children up to 50 lbs.
Cons: While the impressive weight of the stroller is a major pro, it's also a con in the way that the Hummingbird handles.
It can feel almost too light on uneven terrain, going up and down curbs, etc. Full-featured umbrella strollers that weigh in at double the Hummingbird's size — in the 12 lb. neighborhood — feel better to push, in my experience.
But as it happens with lots of baby gear, there's a trade off: for the unbelievable light weight, you lose something in the handling. Remarkably, though, the stroller still feels sturdy.
For it's diminutive size, the Hummingbird also doesn't fold up as small as I'd hoped. It's almost reminiscent of a folding chair when you collapse it down.
The verdict: For a stroller you keep in the car or reserve for short jaunts or travel, it's a good pick for a solid price.
Cost: $100, available at Walmart and Walmart.com