Ashton Kutcher and Mila Kunis Shop for Baby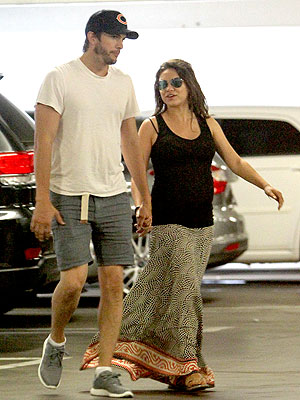 AKM-GSI
Attention, shoppers! Cute parents-to-be alert in Sherman Oaks.
Over the weekend, Ashton Kutcher and Mila Kunis — who are expecting a girl in the fall — made a stop at Juvenile Shop for a few baby necessities.
"They shopped for nursery furniture, including a wooden crib and changing table," an eyewitness tells PEOPLE. "They seemed to know what they wanted and didn't ask for any help."
Kutcher, 36, acted "very protective" of his fiancée, and the duo "seemed very excited about the baby," says the source, who added that the mom-to-be, 30, "looked great."
Earlier this month, the actress told Ellen DeGeneres that Kutcher keeps their fridge stocked with "weird food" in case she has any cravings. "He stocked [it] with … pickles and sauerkraut, or like anchovies and ice creams … just in case at one point during this pregnancy I'd be like, 'I really want something.'"
The couple are also currently working on a registry for Kunis's baby shower, which will just be for close friends and family.
"Her shower won't be a celebrity event," says the source. "Mila seems very low-key when it comes to buying things for the baby. She doesn't want a cluttered nursery with unnecessary items."
—Melody Chiu