Drew Barrymore Steps Out 4 Weeks After Baby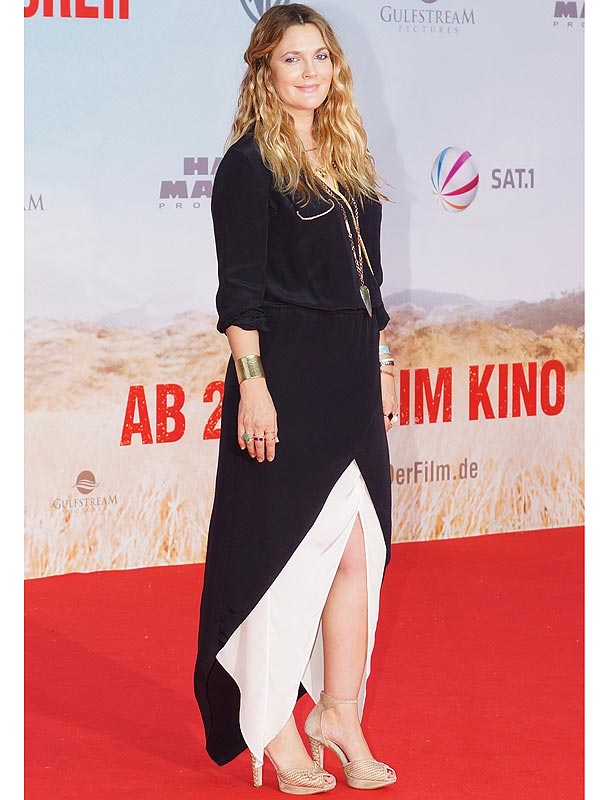 JC/Splash News Online
We're jealous!
Just four weeks after giving birth, Drew Barrymore stylishly showed off her new mommy glow at the Berlin premiere of Blended on Monday night.
And the gorgeous star wore a chic ensemble (a Sass & Bide black tunic dress layered over a white skirt paired with layered necklaces, a Karine Sultan gold cuff and Dana Davis cream woven heels), which gently skimmed her curves.
Barrymore, who is costarring again with good pal Adam Sandler, recently shed some light on why she chose the name Frankie for her new daughter.

"It was just a name that came to my husband and I a few months before she was born, and we were sort of like, 'I think this is it.' And then we gave ourselves room to change our mind, but we never did. My mother-in-law's maiden name is Franco and I love her so much that it reminds me of her as well," the actress explained.
But that doesn't mean she and husband Will Kopelman didn't have other options in mind.
"Every [name] started sounding like a color or a food. Hazel's a great name. No, that's two shades of green. And I love the name Pepper so much, but we were like, 'Olive and Pepper. Like that's two things you find in a pantry.'"
As for experiencing motherhood the second time around, Barrymore is enjoying every moment.
"I feel so good and happy. My kid is healthy. I have nothing to complain about. I'm so blessed."
—Shanelle Rein-Olowokere