Sarah Drew: My Son Is 'Obsessed with Golf'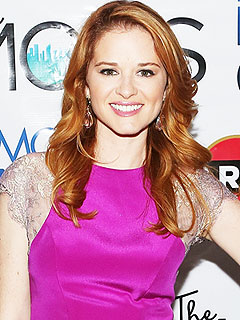 Taylor Hill/Getty
Sarah Drew has already raved about her musically inclined son Micah Emmanuel, but apparently he's a double threat, because nowadays his golf skills are also getting noticed.
Yes, at just 2-years-old, the son of the Grey's Anatomy star "has three golf clubs that he uses," Drew, 33, recently told PEOPLE.
"He puts balls into holes, he drives balls off of tees, he actually gets the ball up off the ground and into the sky. It's ridiculous."
Adds the actress, "He is obsessed with golf. Golf is his most favorite thing. We're members at a golf club. My husband is an amazing golfer and just loves it there and I love it there. We go and have family outings there all the time. He will be spending lots of time at the golf club with his daddy in the future, for sure."

Aside from being multitalented, Drew's little one is also "relatively speaking, super easy" to raise, she says.
"He does have tantrums now and again, but for the most part, he's incredibly sweet and funny and such a good boy. He obeys and listens well, for the most part. He's a lot easier than a lot of toddlers. I'm very, very lucky," she shares.
Drew, who wants to have two or three kids total, put her parenting skills to use on the big screen, starring as Allyson in the recently released film Moms' Night Out, which also costars Sean Astin, Trace Adkins and Patricia Heaton.
"I think the experience of filming this movie has made me fall in love with my parents even more than I did before," she says of the movie about a moms' outing gone absolutely wrong. "It's easy to take for granted everything they did growing up. I've just become so much more grateful for the ways they loved me."
— Dahvi Shira