Michael Strahan: How I Get My Kids to Eat Vegetables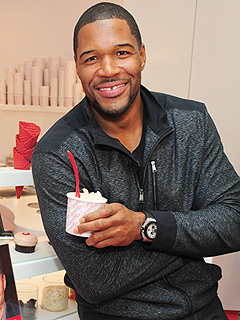 Michael Simon/Startraks
Michael Strahan may arguably be the busiest guy in showbiz.
Now that he has a new part-time gig on Good Morning America — in addition to his daily job as cohost on Live! with Kelly & Michael — you would think he would want countless cups of coffee to sustain his energy. But the truth is, he'd rather have a sugary sweet.
"I have the biggest sweet tooth! You name it, I will eat it," Strahan told PEOPLE at Friday's grand opening of the Sprinkles Ice Cream shop in New York.
"My all-time favorite is my mother's butter cake. Every time I go home, my mom will already have the cake made because I love it so much. This makes my siblings mad because they think she favors me. I don't care because she probably does!"
The former New York Giants football star is now sharing his mother's butter cake by teaming up with Sprinkles to create his own ice cream flavor called "Mom and Michael's Masterpiece Mix," which tastes similar to his favorite sweet treat. Proceeds from sales of the ice cream will go to St. Jude Children's Research Hospital.
With such a big indulgence for desserts, are his 9-year-old twin daughters, Sophia and Isabella, allowed to eat as much sugar as Dad?
"They have to ask first. I don't want them to go excessive, but I want them to enjoy themselves by having something sweet to eat," he says. "I have the best memories as a kid eating ice cream."
Strahan recalls that while growing up, he and his father would eat ice cream and watch TV together after dinner. "It was a family tradition that I had with my father," he says. "It was nice."
As he makes his own traditions with his kids, they are still expected to eat healthy. Fortunately for Strahan, his youngest children are not picky and love vegetables. The reason why? He leads by example.
"If your kids see what you eat, they will probably eat it too," he says. "I'm not going to use the old-school policy of what my mother did and say to my kids, 'Well, if you are hungry enough, you will eat what I put on the table!' I think my kids have an understanding that if they see what their parents do, they should follow too."
Another trick Strahan says is to introduce healthy habits early on. "They've grown up eating broccoli, green beans and carrots and a lot of fruits since they were babies," he says. "So they are used to eating it. I'm really lucky that they are not kids who I have to fight with to eat healthy."
— Paul Chi