Rachel Zoe: 'It Was Just My Fate' to Have Sons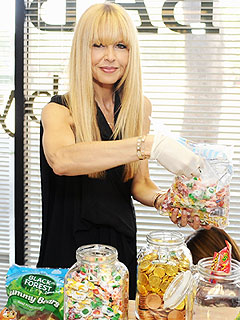 Stefanie Keenan/Getty
She may have her hands full with newborn son Kaius Jagger, but Rachel Zoe is still making plenty of time for her firstborn, son Skyler Morrison, 3.
"We have date nights!" the celebrity stylist told PEOPLE at the Baby2Baby Mother's Day Party presented by Tiny Prints.
"We have a dinner date every night and then we'll sit in bed and watch Mickey and snuggle and eat snacks. We're madly in love with each other."
Still, she adds, "It's a juggle. A toddler is high demand and I'm constantly trying to avoid accidents because he's a boy and he just wants to run. I literally watch him run in circles throughout the day."

And Kaius, 4 months, only adds to the happy bunch. "He's extraordinary," shares Zoe. "He's the sweetest most chill, relaxed angel of a boy. All he does is laugh. He just laughs and smiles all day. It's the best."
A supporter of the charity Baby2Baby and also an ambassador for Save the Children, Zoe plans to teach her sons about the importance of giving back at an early age.
"Skyler loves helping," says Zoe. "We do something at home where every time he gets something, he gives something."
And as far as the fashion-obsessed Zoe ending up in a testosterone-filled house? She laughs it off.
"It was just my fate," she says. "I always believe whatever happens, happens for a reason. But they're my boys. Skyler calls me his princess every day and Kaius looks at me with his blue eyes like I'm the first person he's ever seen. You can't trade that for anything."
— Aili Nahas