Ciara: 'I Consider Myself a Superwoman'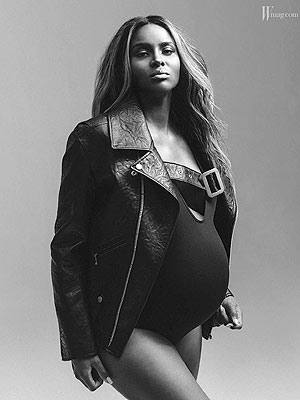 Carlos Serrao exclusively for Wmag.com
Ciara is almost due to give birth to her first child (a boy!), but that hasn't stopped the mom-to-be from maintaining her style.
In fact, the Grammy-winning singer recently posed for a high-fashion photo shoot for WMAG.com while eight months pregnant.
Wearing everything from Commes des Garcon and Eres to Donna Karan, the expectant pop star was completely relaxed. She even joked that rapper fiancé Future has taken to calling her bump the "growing basketball."
"It feels good to not have to wonder whether your abs are tight enough," she also shared in the exclusive interview. "I like not being so perfect."
Despite being a very private person, Ciara is publicly basking in pending motherhood. And she's happily documenting every step of the way.

"My mom and I don't have a lot of photos of my early years," she explained. "[And] this is one of those moments you can't repeat."
The mom-to-be is also preparing for her bundle of joy with the help of a few famous friends, including good pal Kim Kardashian.
So what's the best advice she's received so far? "Allowing your child to be who they want to be — as long as they want to be something great," she said. "You don't know your child until they get here, you don't know their personality. There is a lot of learning to do."
Also on Ciara's mind is her upcoming album, which she claims is her best yet. She also plans to "hit the gym" as soon as her body allows.
"I don't want to sound too cocky. But I consider myself a superwoman."
— Shanelle Rein-Olowokere