Noch Mini: Sophisticated, Eco-Conscious Style for Kids
Thinking pink is not something clothing designer Jina Jang does very often. Especially when it comes to the wardrobe of her 3-year-old daughter, Ollie.
"I'm not a big pink person in general," says Jang, who has designed for Bill Blass, Tommy Hilfiger and Ann Taylor. "When our daughter was born, I was looking for organic clothing options and the choices were very limited. And when I looked at the conventional options, it was always too blue or too pink."
So what's a clothing designer to do? Create your own label, of course! In 2010, Jang launched Noch Mini (pronounced Noke Mini), a children's clothing line using only soft sustainable fabrics and certified organic materials with low-impact dyes.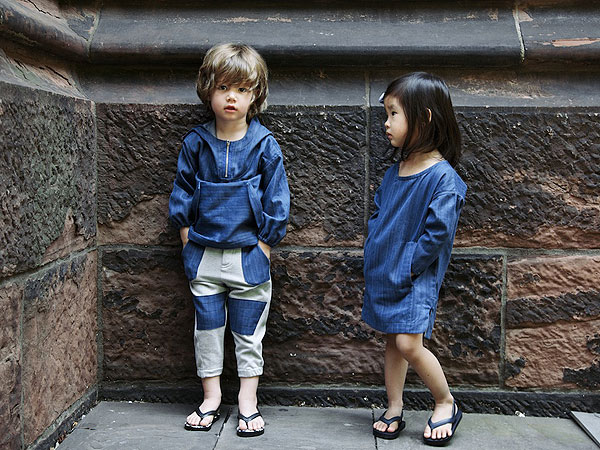 Courtesy Noch Mini

Available in select stores and boutiques, the collection ($40 – $150) is filled with adorable yet sophisticated options for boys and girls, including dresses that twirl, as requested by Ollie, who often models her mom's designs for the website.
And the color palette is unisex — think yellow, denim, and soft white fabrics — so moms like Jang can avoid typical masculine or feminine shades if they want to.
"I always keep in mind that comfort is the most important thing," Jang tells PEOPLE. "Even when I shop for myself I always buy something comfortable. So my line, I want to make it look sophisticated but comfortable. Not childish, but fun. And, most importantly, we produce an organic collection that is as good looking and cool as other conventional brands."
The New York-based designer — who often finds herself whipping up sketches on the subway or at the park — thinks fun details, like zippers and 3D fabric shapes, are what makes the line stand out.
Hopefully, it's also what helps catch the eye of celebrity parents like Jessica Alba, who are equally eco-conscious. But for now, she's happy to have daughter Ollie as her biggest fan and collaborator. Although that may mean the designer will eventually have to add more colors to the collection.
"She's asking for pink," Jang confesses. "I have to buy something other than our line to accommodate her demands."
—Amy Jamieson