Mark-Paul Gosselaar Jokes: My Kids Love Their Baby Brother, Just Not Each Other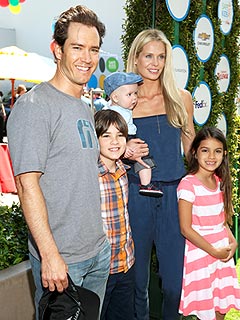 Imeh Akpanudosen/Getty
The sibling love was at a standstill in Mark-Paul Gosselaar's home — until his two kids were saved by … the baby.
Despite a rocky relationship with each other, the actor's children, Michael Charles, 10, and Ava Lorenn, 7½, have happily embraced their roles as big brother and sister to 6-month-old Dekker Edward.
"They still hate each other, but they love the baby, so all the love now goes to Dekker," Gosselaar, 40, joked to PEOPLE at the Safe Kids Day event on Saturday in West Hollywood, Calif.
Balancing a new baby and busy schedules with work can get hectic, so during the week Gosselaar's goal is often "just having dinner … as a unit." But all bets are off on the weekends when the family — which includes Gosselaar's wife Catriona — gets together for some fun.

"One of the activities that we do is we play golf together — it's something that we like," the Franklin & Bash star says. "We pick one day to have fun between the kids' soccer and gymnastics."
And with so much going on, Gosselaar has found a way to document each moment — and memory! — throughout the years. The result has become a special keepsake for his children.
"The minute Dekker sat up and Michael goes to bed without a nightlight [and] Ava loses her tooth — there's literally milestones every single day with children," he explains. "We write it down in a journal every once in awhile. Anytime the kids say a funny quote, we write it down … and then we read  them out loud. It just shows how the time progressed."
— Anya Leon with reporting by Abby Stern