Alyssa Milano Snaps a Selfie of Her Baby Belly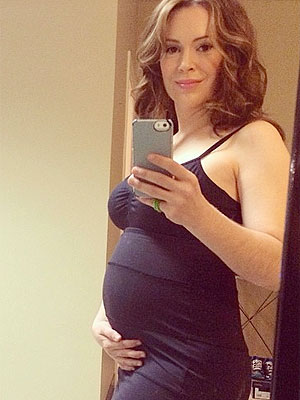 Courtesy Alyssa Milano
Just two weeks after announcing that she's pregnant, Alyssa Milano has shared a picture of her growing bump on Instagram.
"The bump," she wrote, explaining the size of her belly with the hashtags "#shortpeoplecarrybig #noitsnottwins."
The 41-year-old announced in March that she was expecting a sibling for her son Milo, 2½. "We are so happy to share with you that Milo is going to be a big brother," she said.
Milano, who's married to Hollywood agent David Bugliari, told PEOPLE last year that she was eager to have another child.
"I want Milo to have a sibling and have someone to grow with," she said. "My brother and I are so close, and I can't imagine not giving my son that kind of relationship."
She admits that it took her a while to find the balance between motherhood and work, but now that she's "on the right track," her life is better than ever.
"It's hard not to be happy when I feel fulfilled," she has said.
— K.C. Blumm