Jessica Alba Shares Eco-Friendly Nursery Tips with Cricket's Circle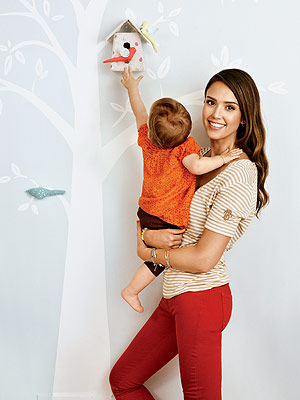 Justin Coit
We've already confessed how much we love Cricket's Circle, a new baby product recommendation site.
And that includes their very informative blog, which often features advice from celebrity moms.
Last month Honest Company founder and actress Jessica Alba shared her baby-friendly beauty routine.
Next up: how to create a safe sleeping space for your tot.
Check out her tips below:
BE AN EARLY BIRD
If you're preparing a nursery to be a haven for you and your little one, take a couple months before your due date to make it fume-free from top to bottom and to let the dust settle — literally.

FLOOR IT
Babies spend a lot of time on the floor, so, instead of wall-to-wall carpeting and synthetic area rugs in my daughter's nursery, I used modular Flor tiles or natural-fiber Capel Rugs. If you have hardwood floors, try refinishing them in PVC-free options like tung oil or polywhey from Vermont Natural Coatings. Or, try cork flooring: it's a renewable resource and it clicks together easily.
OFF THE WALL
Avoid that "new paint smell" (which is harmful) with Mythic Paint, which is VOC-free (volatile organic compound — look it up). Let a not-pregnant friend paint and run a HEPA air purifier for at least a week following (I actually still run one in Haven's room). Also, Graham & Brown does wallpaper in gorgeous patterns made from recycled content and Phillip Jeffries makes cool textures in organic cotton — make sure to use non-toxic adhesive.
PLASTIC (NOT SO) FANTASTIC
Off-gassing is what happens when toxins from plastics and common household goods, from mattresses to furniture to paint, are released into the air. My husband Cash thought I was crazy for not letting some plastic baby gifts into the house, but they had that signature smell. If Auntie must see your baby in a pic with her plastic present, let it air out outside first.
SLEEP EASY
When I asked Honest co-founder Christopher Gavigan, author of Healthy Child, Healthy World, what is the most toxic item in the home, I couldn't believe his response was mattresses and cushions. Look for materials like polyester, wool, down and cotton from brands like Naturepedic and avoid flammable polyurethane foam that is usually treated with toxic flame retardants.