Connie Britton: My Son Is Learning 'How to Treat Women'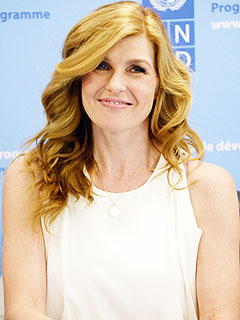 Anthony Behar/Sipa USA
Connie Britton might have a real cowboy Casanova on her hands!
The Nashville star was recently named a Goodwill Ambassador for poverty eradication and women's empowerment by the United Nations, and has no fears that her 3-year-old son will help her pave the way.
"Oh my gosh, he's surrounded by loudmouthed women all the time. He's always learning about women," Britton jokes to PEOPLE of teaching her son Yoby about female empowerment.
"I am actually really proud, I think he's going to grow up with a real strong sense of how to treat women because he's around them so much — especially powerful, strong women."
Motherhood's biggest surprise since the 47-year-old actress adopted her son from Ethiopia in 2011, has been, well, that there are constantly surprises.
"Parenthood is surprising. There are surprises every day, which surprised me in itself," says Britton. "People always say, 'Parenting requires patience,' and I heard that and I thought I understood why, but I had no idea really why I needed to be patient."
But it didn't take long for Britton's patience to be put to the test. "I finally found out: it's because kids are SO SLOW," she explains. "Everything they do is slow, so that's why everyone always told me I would need patience."
Don't get her wrong, Britton loves every minute of it. "My son wants to try everything, and I love that, but he's young so everything he does is slow. I just have to watch and wait for him to finish each thing."
One thing that isn't slowing down for Britton? Her exciting career.
— Maggie Parker