Carson Daly: 'I'm Not Missing a Minute' of My Baby's Birth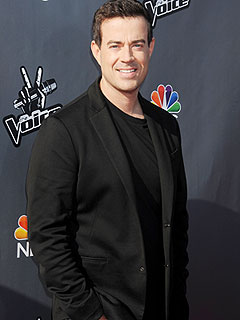 Gregg DeGuire/Wireimage
He produces and hosts The Voice, is a social media guru for the Today show and hosts his own morning radio show, but the most important job in Carson Daly's life is being a fantastic father.
"My family's the most important thing," Daly, who's expecting his third child with fiancée Siri Pinter in August, told PEOPLE Thursday at a private concert with The Voice judges at The Sayers Club.
He added: "I'm not missing a minute of the birth of my kid. Family first."
And though Pinter's not yet having any late-night cravings, the television personality, 40, is ready if they should hit.
"I'll be happy to get up and go get some pickles at 3 in the morning if I have to do an interview on the Today show at 5 in the morning," Daly, dad to daughter Etta Jones, 19 months, and son Jackson James, 5, said.
Luckily, Daly is in good company with the rest of The Voice family. Coaches Usher and Shakira, who also have young children, are both still figuring out the key to balancing work and family.
"I don't know how the guys do it, but [it's] a talent — especially for women," Shakira told PEOPLE. "Women know how to multitask and juggle anything."
Quipped Usher: "Men do, too! You have to figure it out."
— Melody Chiu