Hilaria Baldwin's New Yoga Partners? Carmen and Giada De Laurentiis
Hilaria Baldwin has no problem showing off her yoga poses everywhere from the park to the pedicure chair.
But for her, it isn't only about playing up to the paparazzi. It's a practice that she takes seriously and really believes can help new moms.
Recently, Baldwin took time to share some postpartum-friendly poses and tips with Giada De Laurentiis for Giada Weekly, the chef's online magazine. And she brought along a special guest for the demo: 7-month old daughter Carmen Gabriela!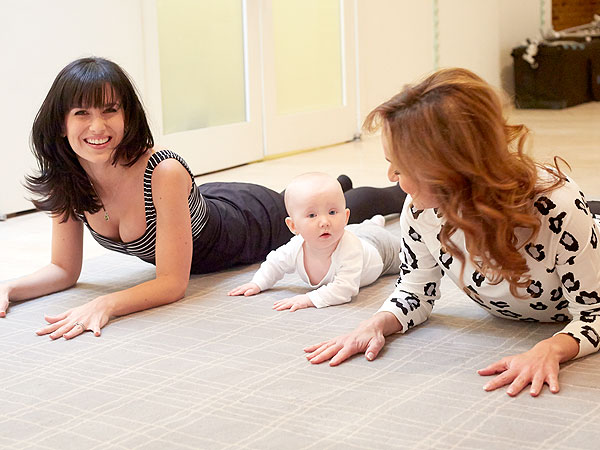 Courtesy Giada

Baldwin, 29, says her little girl is already a mini-yogi, and she was just born with it.
"Yoga makes sense because it's the natural way of movement," she says. "So I see things that Carmen does and I encourage it. It's reinforcing what she does naturally."
The new mom is referring to the "happy baby" pose (shown in the cute photo below!), which Carmen, like most babies, quickly take a shine to.
She also admits she started doing yoga "right away" after she gave birth to Carmen, but "took it easy," starting with stretches in the hospital.
Three weeks later, she was able to do a 15-minute run. But of course, there have been some changes to her regular routine.
"I do yoga every day," says the instructor at N.Y.C. studio Yoga Vida, "but now I only teach two classes a week. At one point I was teaching 36 classes a week!"
It's a good thing she took things down a notch — Baldwin started to develop stress fractures in her hips. She explains, "Yoga is good, but like anything, in excess it can be bad for you."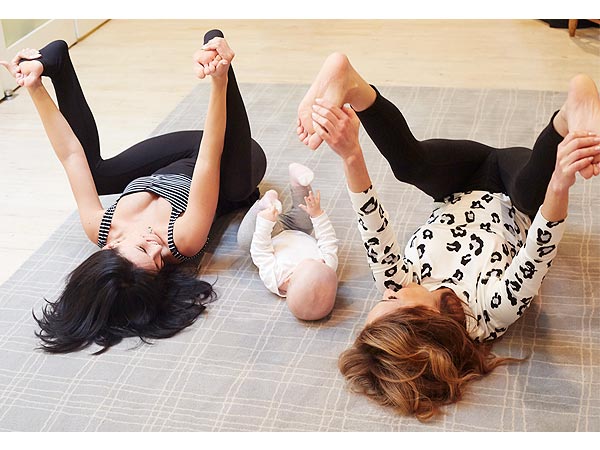 Courtesy Giada
So what are the best exercises for post-baby bodies? "Plank is really great," she says.
"I also like a variation on plank called Dolphin Plank. You balance on your forearms with your feet and heels together, then bend your knees one at a time or drip your hips from side to side. Try to keep your heels together and stay stationary."
And though her husband Alec Baldwin does yoga "more than he used to," he's not the biggest fan of the stretchy workout. "He really just wants to sit in a corner and read a book."
—Catherine Kast