Third Child on the Way for Carson Daly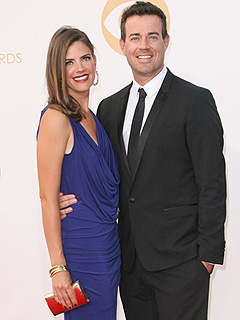 Adriana M. Barraza/WENN
Carson Daly has added another job — and another baby — to his schedule.
The host of The Voice and Today's digital studio, the Orange Room, and fiancée Siri Pinter are expecting their third child in August, the couple has announced.
Daly, 40, and food blogger Pinter, 33, are already parents to daughter Etta Jones, 18 months, and son Jackson James, 5.
"We're expecting a third," the host announced Monday on The Tonight Show with Jimmy Fallon. "For years my mom was like, 'When are you going to have a kid?' And now she's like, 'Slow down!'"
Pinter shared more about the happy news — along with a recipe for double chocolate double peanut butter cookies –in her latest post.

"I'm pregnant! Carson and I are expecting our third child in mid-August and he, Jack, Etta and I are so happy. Well, as far as I can tell Etta is happy (she thinks the baby lives in my breasts)," the mom-to-be jokes.
"I'm about halfway there, feeling pretty great, and eating enough for five. Is that how it works? Are you supposed to eat for every member of your family, including the baby in your belly? Just say yes and make me feel better about life."
AS SEEN IN PEOPLE: Carson Daly: I'm a Family Man, First and Foremost

{New blog post} I can use this excuse (again): the baby is making me do it! http://t.co/nHucByQuhd

— Siri Pinter (@siriouslydelish) March 25, 2014
— Sarah Michaud