We Tried It: Svan Baby-to-Booster Bentwood High Chair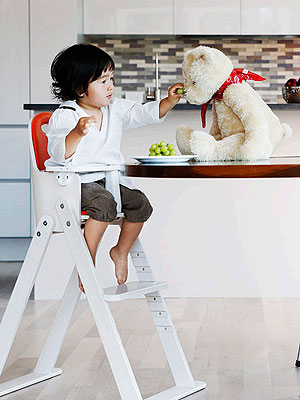 Courtesy Svan
We Tried It: Svan Baby-to-Booster Bentwood High Chair
Who tried it: Rennie Dyball, Senior Editor
Why she did it: Feeding her baby in a Bumbo seat wasn't cutting it anymore and it was time to graduate to a real high chair.
Pros: This attractive high chair with an easy on/off tray and a fold for storage comes in three different color combinations, including a nice neutral espresso/almond combo that doesn't scream "baby gear in the kitchen!" (The natural/lime and white/tangerine are still attractive, but more eye-catching.)
It's easy to get the baby into and out of the seat, and the felt pads on the bottom of the legs make it easy to scoot the chair– just 10.5 lbs. –around without scratching the floor.
And the oval cutout at the top of the chair makes moving it around your living space easy. For me, it's often those little touches that make or break a big-ticket baby item.
Cons: Speaking of those little touches, it would be nice if the 5-point adjustable harness straps were fed through the chair back itself.
On the Bentwood, the straps just sit in a pile on the seat. It's certainly not a deal-breaker, but it's a luxury I missed having.
The chair is advertised to fit little ones from 6 months to 5 years, but it's not the roomiest seat around and could be a tight squeeze when a child is between needing high chair and a booster.
The verdict: The solid birch construction, style and small footprint make this chair a good value.
Cost: $180