Kendra Wilkinson-Baskett's Blog: Pregnancy the Second Time Around
Please give a warm welcome to our newest celebrity blogger, Kendra Wilkinson-Baskett!
The reality star, who first gained popularity on Girls Next Door, has been on television for nine years and is the author of Being Kendra: Cribs, Cocktails and Getting My Sexy Back.
Wilkinson-Baskett, 28, now stars with her family, including husband Hank Baskett and their 4-year-old son Hank IV, on Kendra On Topon WE tv.
The couple, married since 2009, will welcome their second child — a girl! — in mid May.
You can find her on Facebook, Instagram and Twitter @KendraWilkinson.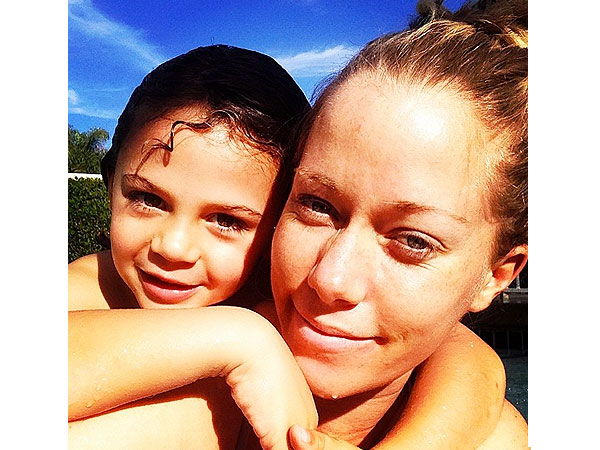 Courtesy Kendra Wilkinson-Baskett
Hi everyone! I am so excited to be the newest PEOPLE.com mommy blogger. I love being a mother, and Hank and I are so excited to welcome a little girl to the Baskett family.
I'm in my third trimester and am feeling every little bit of it — I'm round, tired, grouchy, smelly and horny! There are so many things about this pregnancy and I've tried to capture them, and how I'm coping with everything, in today's post.
In the beginning, my emotions were high — no surprise there, right? And, like most pregnant women, various moments and emotions from childhood have randomly popped up, especially now since the due date is quickly approaching. Luckily for me though, my childhood was amazing and helped to mold me into the strong, independent, confident woman that I am today.
While I didn't have a father around, I did have — and what I want my children to both experience — the ability to explore, experiment and enjoy life as a kid.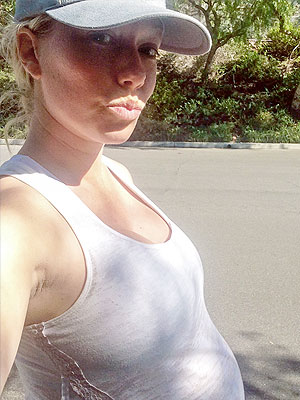 Courtesy Kendra Wilkinson-Baskett
People keep asking me if I'm excited to have a "princess" and I usually respond with, "I'd rather have my girl be a superhero than a princess."
I believe making her think she is a princess is unrealistic and sets up a fantasy world. I want her to live and learn as I did — outside, playing in dirt and kicking a ball around.
Now, if she likes movies about princesses, that's different because I like them, too! (Shout out: Frozen is awesome!)
If I'm most nervous about anything for her, it's how early societal rules will influence her — everything from how and when girls are supposed to dress, talk, appear, etc. I want her to live her life like a child and in the end, be a confident, powerful woman … But of course, she should always be treated like a princess! LOL.
I want our kids to know how to protect themselves and to look out for others. Given the news we all read or hear about, it's actually made me a stronger parent — I'm not a "helicopter parent," but I am very aware of local and world events and want to teach them what's right and wrong.
And, no, I don't mean that they should go around picking fights. I want them to have big hearts, caring hearts, but I don't want them leaving the house without them knowing how to fight. I want them to have places where they feel safe. We are strong supporters of the Second Amendment, particularly now that we are having a daughter. LOL!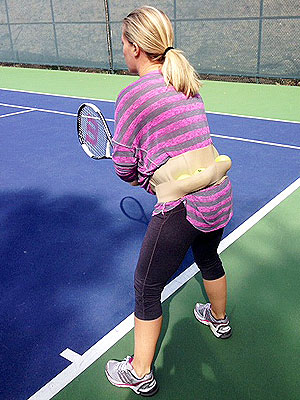 Courtesy Kendra Wilkinson-Baskett
Maintaining a healthy body is my number one goal with this pregnancy since I understand what can happen if you eat like crap.
I gained about 60 pounds when I was preggers with Lil Hank and I'm desperately trying not to do the same with our daughter.
I also have bad hypothyroidism so I have to be careful this time around. I've tried to be really active and I've been walking and swimming A LOT.
A couple of weeks ago, I attempted to "play" tennis and I went to run for the ball — for a quick second my mind forgot I was pregnant. My body was like, "What in the world?!"
Needless to say, I think I'm done with tennis for a while.
My food choices are pretty consistent for each meal. I have a high fiber meal in the morning so I can relieve myself (LOL) and get my metabolism started.
About two hours later, I'll have another breakfast — scrambled eggs and avocado or I'll have one of my smoothies that I've taught myself to make. We make organic frozen fruit mixed with different types of greens … we're smoothie pros!
Then for lunch, I'll make a lettuce and avocado salad at home so I can control how much of what I put in it with a low sodium soup. For a snack, I usually have veggies, trail mix, a granola bar or some hummus and pita chips. And for dinner, I actually cook!
I've never cooked in my life until now. I learned to cook because I want to know about the food and the ingredients going into my family's bodies. I'm learning new dishes and so far the boys like them. It's all about organic food and ensuring the family has balanced meals. And, I'm not going lie, desserts have become a frequent (and favorite) item on the menu!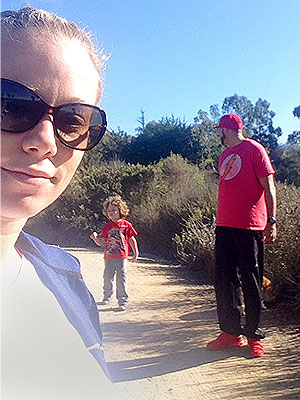 Courtesy Kendra Wilkinson-Baskett
Unfortunately, while I'm eating all this healthy food, the only thing I can't control are the smelly and loud gas noises coming from my body!
I honestly could not have made it to this point in the pregnancy feeling as good as I do without Hank. He has been an amazing and supportive husband.
He is a hands-on-dad with Lil Hank — taking one for the team to help me relax as much as I can. He treats me so well and makes me feel beautiful.
BUT the sex is lacking this pregnancy. Newsflash — I'm a very sexual creature. I love my man and sex, but sometimes I feel Hank is not attracted to me.
A big emotional tornado swirls in my head, BUT then he tells me that I complain about this pain or that pain every five minutes, (especially since the baby is sitting really low and I feel like she's breaking and crushing things down there) so why would he want to touch me?!
And when I cough, I either fart, pee or cramp. Okay, okay. He's got me there and it makes perfect sense.
All that said, I still catch him staring at me or taking pics and telling me how beautiful I am pregnant or not … so sweet.
By nature, I love to be comfortable. So when I'm not on a red carpet, on a date with Hank or at a night out with friends, I'm wearing one of Hank's shirts and a pair of sweats.
When I do go out though, I make sure I embrace the bump and don't shy away from my personal style. I want to show the bump, and not just look like I've disguised it with a sparkly, fabric tent.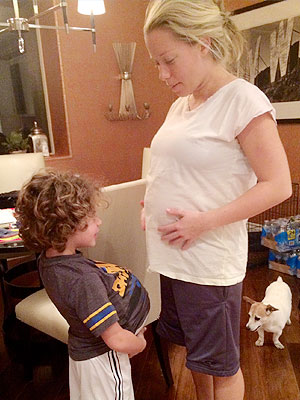 Courtesy Kendra Wilkinson-Baskett
Being able to wear form-fitting outfits with color helps with my bump and helps to promote the pregnancy glow.
The one new thing I discovered about myself is that I hate my boobs. They're annoying. They're in my way. They're bigger. I am seriously contemplating taking them down a size after pregnancy!
With my first child, we tried to have the baby naturally and unfortunately, it didn't happen. After about 30 hours of labor — actually, nothing happening — I had to have a C-section.
So, we are having a scheduled C-section for baby number two — no more hours than necessary will be spent in the hospital this time.
Can you tell I'm definitely on edge and controlling? I'm officially in my nesting stage.
There's so much more to write and share, but it's time to close this first blog. Thanks for stopping to read it.
More blog posts coming soon …
Cheers!
— Kendra Wilkinson-Baskett