Fergie: I Love Switching Up My Son's Style (and Sneakers!)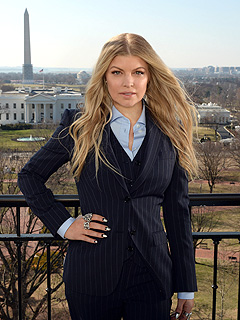 Dimitrios Kambouris/Getty
He may look just like dad Josh Duhamel, but Axl Jack seems to be getting his style sense from his fashion maven mama, Fergie.
The singer, who currently serves as global ambassador for the Avon Foundation for Women to help bring awareness to violence against women in celebration of International Women's Day month, tells PEOPLE she loves to get creative with her 6-month-old baby boy's wardrobe.
"[His style is] different on different days because Mommy dresses him," shares Fergie, 38, who partnered with Avon to launch the Justice Institute on Gender-Based Violence to address violence against women across the globe.
"Sometimes he's a complete rocker, sometimes we go hip hop, sometimes we go athletic [and] sometimes he'll wear some North Dakota-inspired clothes."

Axl's outfits may be "all over the place," but there's one thing that stays the same: each ensemble is accompanied by fabulous footwear.
"I love trying different sneakers on him. That's always fun," says the Black Eyed Peas frontwoman, who is working on a second solo album. "I love anything costumed, anything with a theme. I love mixing up his fashion from Chrome Hearts to Dsquared."
Motherhood has also affected Fergie's style too. According to the first-time mom, Axl — who is just learning how to sit up on his own — plays a big part in what accessories she decides to wear for the day.
"I know there are certain necklaces that I can't wear when I have Axl with me. Some of my spiky jewelry is a no-no when it's Axl time — save those for date night!" she explains.
"He likes to grab on to everything — including my hair, which I completely encouraged in the beginning. I loved when he touched it, he got so happy. I felt this bond with him as a mommy."
She adds, "I think that a lot of feelings that you have as a mom, they're so pure and loving. But I asked for it, so now he grabs it all the time!"
Having fun with fashion isn't the only thing Fergie has been up to since welcoming her son. She's also managed to rack up a "whole bag" of mommy must-haves, including diapers from good pal Jessica Alba's brand, The Honest Company.
"I feel like [she's] done a great job with that company," Fergie says. "She sent me some [diapers] when he was born and I wrote her a thank you. But I've ordered more since she sent them to me because they're great. I love her moisturizing cream as well."
–Anya Leon with reporting by Jackie Fields