Chris Pratt: Jack Recognizes 'Dada' in Parks and Recreation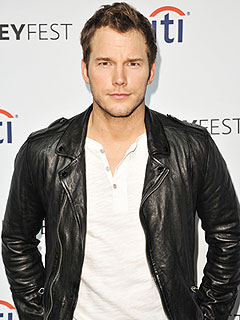 Richard Shotwell/Invision/AP
Chris Pratt's son Jack is learning a lot of new words, but there's one that stands out for the actor: "Dada."
"I do have video of him saying 'dada' when I come on the screen," the Parks and Recreation actor, 34, told PEOPLE at the show's PaleyFest panel on Tuesday. "He knows a lot of words, colors, numbers. He's very advanced for his age."
Continued Pratt, unable to resist a good joke: "He also can type 90 words a minute, which is really good for an 18-month-old!"
After spending five months in London last year to film Guardians of the Galaxy, Pratt had worried that Jack, his son with wife Anna Faris, wouldn't remember him.
"He recognized me when I came home," Pratt told PEOPLE in October. "I was worried that he wasn't going to recognize me, but he recognized me from Skype."

That was actually quite an accomplishment for Jack, considering the transformation his dada underwent for his role in Guardians of the Galaxy.
"Just the old-fashioned way," Pratt told PEOPLE on Tuesday about how he got ripped and rediscovered his six-pack. "Just working out and being very mindful of my diet."
Which, he said, is miles away from Andy Dwyer, the character he plays on Parks and Recreation.
"It's essentially the exact opposite, which means no working out and not at all being mindful of what I eat and drink," he said. "It's sort of boring. It turns out there's no secret, it's just consistency and hard work."
— Wade Rouse with reporting by Gabrielle Olya