Rachel Uchitel: Opening a Baby Boutique Is 'My Dream Job'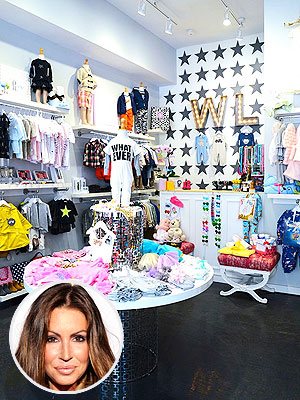 Courtesy Wyatt Lily; Inset: Frazer Harrison/Getty
After years of late nights on the party scene, it might be surprising to some that Rachel Uchitel has decided to open up a children's boutique.
"It's my dream job," says the former nightclub hostess, 38, who named the store after her young daughter, Wyatt Lily.
Located on N.Y.C.'s Upper West Side, the bright and cheerful shop carries everything from clothing to gifts for moms with a hip style sensibility.
Among Uchitel's favorites are a shiny tutu from Oh Baby and T-shirts and onesies from Nununu Baby ("People are freaking out over that brand," she says).
Another cool find? Baby socks and shoes from Me-in-Mind. "If you lose a sock, there's an 800 number [you can call] and they'll send you a replacement sock for free! It's life-changing. They should have it for adults."

Uchitel, who returned to New York City from L.A. last year, says her main inspiration is her growing 20-month-old, Wyatt Lilly. "My daughter likes sparkly things and anything that kind of moves," she tells PEOPLE.
Her baby girl is even helping her come up with ideas for a line of girls basics (tanks, T-shirts and faux leather leggings) that she's launching this spring.
More than anything, Uchitel is glad her late nights are a thing of the past. "I love that world and I was good at what I did, but I didn't want to be away from my daughter. I'm 38, I'm not trying to pretend I'm 26."
Also, ironically, some of her former clientele now frequent her shop. "These are people who were spending thousands of dollars on bottle service and now they've become customers. It's funny how those relationships have translated over."
As for the current status of her love life, the recently divorced mom says, "I'm not dating anybody. I'm just not in that mode. To be honest, I just won't make the time unless it's somebody that I feel really stands out because I can't waste two hours of my night going to dinner with somebody when I'd rather be with my daughter or at the store working."
— Liz McNeil