Shakira: Why I'm So Open About My Personal Life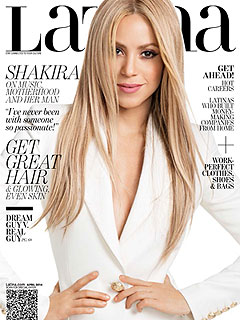 Courtesy Latina
Gerard Piqué may play soccer now but if things go according to Shakira's plan, he will one day be head coach of his own team.
The new mom tells Latina that the couple's son, 13-month-old Milan, will hopefully be a big brother — sooner rather than later.
"If it weren't because of my music projects, I would be pregnant already," she says in the magazine's April issue. "I would love to have eight or nine kids with Gerard — my own [soccer] team."
And it seems as if convincing Piqué won't be a problem. The Voice coach, 37, says the two don't need to compromise much, considering they are the perfect match.
"We want the same things, we like the same things, we hate the same things," she says. "I have never been with someone so passionate in my life."
Shakira adds, "He's with me because he wants to be with Shakira the person, not the celebrity. There's real love, there's no ulterior motives."
Opening up about her personal life is nothing new for the singer, who shared much of her pregnancy — and continues to post photos of her family — with her fans through social media.
"When you have a baby, when you feel his love, you feel so at peace with the world. You just want to share the good news and share how happy you feel," Shakira explains.
"I have so many people out there that celebrate with me when they know that I'm happy … In a way I feel supported and, in a very strange way, accompanied through life."
And with her fans' support extending to her son, the proud mama looks forward to the day he can return the favor.
"They express so much love for Milan, so much affection," she says. "I can only hope that as he grows up, he learns how to give that love back to all of those people that give him so much every day."
— Anya Leon