Jaime King: Motherhood Taught Me What Love Is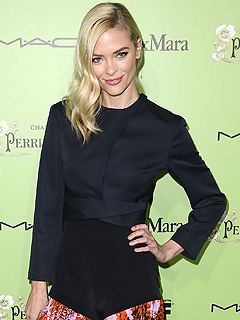 Frederick M. Brown/Getty
It's only been five months since Jaime King and her husband Kyle Newman welcomed their son, James Knight, into the world, but in that short window of time the actress has come to the realization that she wasn't prepared for being a mother.
"You think you know and you have no idea," the actress told PEOPLE while attending the 7th Annual Women in Film Pre-Oscar Party at Fig & Olive in Los Angeles.
Turns out that while all the books and advice from friends and family are helpful, nothing is as jolting as that moment you hold your child in your hands.
"You realize how powerful we are as creators and you realize that there's no room for you own [stuff] anymore," the Hart of Dixie star, 34, says.
"You look at this little child and any part of you that wants to go off into a lala land or any sort of selfish behavior or ideas, you look and you know what love is. I don't know how to describe it other than it's the most profound thing that could ever really happen."
Although James is currently capable of not much more than capturing hearts and rolling over in the middle of the night so that he can deprive his parents of sleep — "At 4 a.m. he'll roll over on his stomach and then start screaming and then you have to flip him over," King says — he has singlehandedly taught his mother that not only will she never need an alarm clock again, but that parenthood brings with it a sense of serenity and humility as well.
"It's really challenging, I think your whole life changes," the Sin City actress admits at the event, which was sponsored by Perrier-Jouet, MAC and Max Mara.
"The only thing that really matters to me is the survival of my son. Obviously, to be in this industry, you have to be ambitious and driven, but it's finding a way to balance how do I do the best work possible while at the same time create a life for my son where he can be very happy and free."
— Reagan Alexander