Susan Sarandon Plans to 'Completely Spoil' Her Grandchild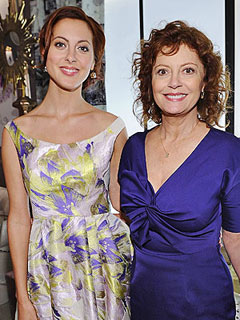 Michael Buckner/Getty
Susan Sarandon is thrilled to become a grandma — but don't expect her to dole out motherly wisdom to daughter Eva Amurri Martino.
"I will take the kids when she's crumbling with exhaustion, but I wouldn't begin to give her advice," Sarandon, 67, tells PEOPLE.
"She'll find her own way, and she has very, very strong opinions about everything. So she'll figure it out through trial and error, like every other mother does."
Amurri Martino, 28, recently announced she is expecting her first child, and she's already basking in her pregnancy glow. Meanwhile, Sarandon is eager to take on the role of doting grandmother.

"I plan to just completely go against everything my daughter's trying to do and spoil them completely," she jokes. "I also can't wait for her to understand how challenging being a mother is and appreciate me even more when she finds out."
The Oscar-winning actress already has her hands full working as a celebrity ambassador for The 100 Good Deeds movement, a charity that sells handcrafted bracelets made by women in developing nations like Haiti and Uganda. The jewelry is meant to inspire its wearers to pursue selfless, anonymous acts of kindness. These gestures can be as simple as opening the door for someone or waving to a stranger having a bad day, Sarandon explains.
"When you buy a bracelet, you are helping vulnerable women and you are creating employment for them," creator Mary Fisher tells PEOPLE, adding that all of the proceeds go directly to the women.
Also on Sarandon's busy schedule? Promoting Waiting for Mamu, a documentary Sarandon produced about social worker Pushpa Basnet and the daycare she founded to help incarcerated children in Nepal. The film screens Sunday at the Sedona Film Festival. And Sarandon's involvement has come full circle: Fisher said she is working to help Basnet bring the production of 100 Good Deeds bracelets to the imprisoned women she aids.
As for the women in her own family, Sarandon is confident Amurri Martino is ready to dive into parenting.
"She's gonna be a kick-ass mom," she says. "She already is embracing it so completely."
–Michele Corriston