Meet the 4-Year-Old Who Crafts Celeb-Worthy Gowns Out of Paper
Suri Cruise may give mom Katie Holmes fashion advice, and North West may have more luxe duds than her mama, Kim Kardashian. But if you ask us, 4-year-old "Mayhem" is the biggest little fashionista of them all.
Using craft paper and tape, the mini designer makes one-of-a-kind dresses (as well as red carpet and runway copies) — and they're pretty amazing.
Her mother, Angie, tells the Huffington Post that she suggested making a dress out of paper last year and her daughter took the idea and ran with it. After awards shows, the pair Google images and Mayhem picks which gowns she wants to make.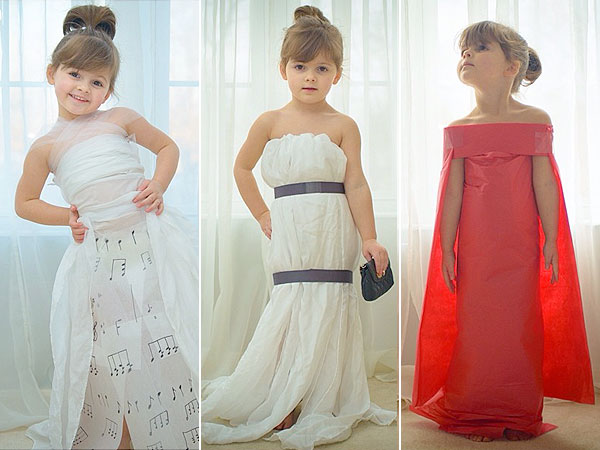 Courtesy 2sisters_angie
"At this point she knows exactly how many sheets of construction paper she needs to make herself a top and a bottom," she says. "She can lay the entire thing out and tape it together all by herself."
And when she showed her little girl a clip from Project Runway, and explained that there is a show all about making clothing, "I thought she might hyperventilate."
Angie, who admits she can't sew a straight line on a sewing machine, uses tape and glue to hold together their fanciful creations that sometimes include aluminum foil, tissue paper, wrapping paper and gift bags.
Nine months after they started, they are still making the dresses, which you can see on their Instagram page and blog.
And while Angie says she isn't sure when or where it will all end, she adds "as long as she wants to make them, we'll keep doing it."
— K.C. Blumm