Munchkin's New Layette Line Will Keep Your Baby Comfy All Day (and Night!) Long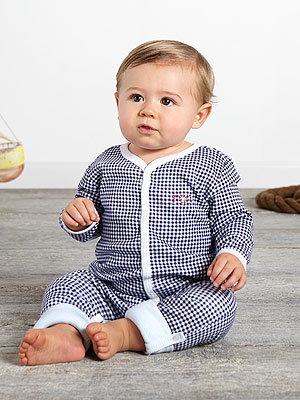 Courtesy Munchkin
When you're a new parent, keeping your baby comfortable can be one of life's biggest mysteries.
Are they too hot, too cold or do they just need a change of diaper?
Well, Munchkin's new mbaby layette line takes some of the guesswork out of this daily parental dilemma.
The collection's Onester and Sleepster each feature patent-pending double layer technology that helps regulate your tot's temperature during the day and night.
"Our mission is to be an inventive brand that simplifies parenthood," says Steve Dunn, chairman and CEO.

"When we looked at the classic baby body suit, it was clear that no significant innovation or improvements have been made since its original introduction in the 1950s. We knew we could make it better."
And they have. Made with super soft 100 percent cotton (there are even organic styles), the line is truly revolutionary to baby dressing.
Ranging from $26 to $60, the collection also includes adorable playwear that embodies simple French chic (striped nautical tees, anyone?)
To see more, go to munchkin.com/mbaby.
— Shanelle Rein-Olowokere