John O'Hurley: I've Become a 'Vigilant' Dad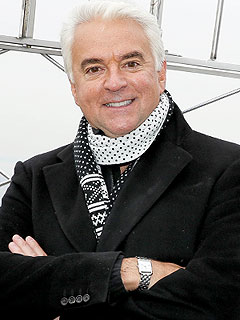 Rob Kim/Getty
When John O'Hurley became a dad in 2006, things changed for him overnight.
"Fatherhood definitely softened my edges," he told PEOPLE while attending the Full Sail University Hall of Fame Ceremony. "It gave me a new purpose."
But now that his 7-year-old son, William Dylan, is old enough to understand the world around him, O'Hurley, 59, says that his edges are becoming sharper again.
"I am now much more vigilant about things that I would have let slide before I had a son. Because I am a father, I am much angrier at what I see in the world, the injustices and bad behavior," he says.
"Before I had a son, I may not have even noticed them, but when I see things through his eyes, I get angry at them."
He continues, "I don't accept things that I used to accept before. I believe this very strongly: you define yourself not by what you will say yes to, but what you will say no to. So yes, I'm a vigilant dad."
Relaxing backstage with PEOPLE at the event, O'Hurley said that he's in a great spot in his life and career.
"I have been blessed to have so many wonderful things happen to me, but no matter what happens, I am always recognized for being on Seinfeld," he explains. "It doesn't matter what else I do; that's how people know me. I love that."
Next up for O'Hurley: a touring production of Chicago, which opens in the Windy City on Tuesday.
"I love being on stage," he says. "I've played Billy Flynn in Chicago more than 1,000 times, and it never, ever gets old to me."
And when he's not on stage, there's a lot of work to do at home. "I have the responsibility of looking down my son's path and making sure I've cleared as much as I possibly can for him," he says. "That's my job."
— Steve Helling